PHONE:
403.762.6860
ADDRESS:
405 Spray Avenue
MAINS:
$32 - $138
Local just tastes better. That's why 1888 Chop House uses only the freshest ingredients sourced from local farms and local waters. To accompany your tasty earth conscious meal, know that every bite has been made in-house and just for you. Every detail is meticulously prepared to ensure you have the utmost dining experience.
As the cherry on top of your dining sundae, remember you are in a castle. This is not your ordinary dining experience. With an in-house sommelier, mixologists at your beck and call and the highest quality cuts of meat available, 1888 Chop House is meant to be enjoyed and savored. Go ahead, indulge.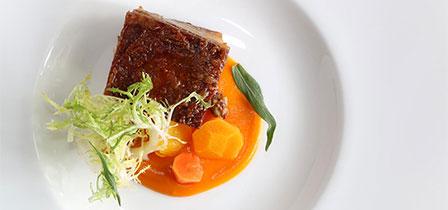 $

16
Iceberg Wedge Salad
Pickled Duck Egg, Radish, Bacon Lardons, Smoked Blue Cheese, Peppercorn Ranch Dressing
$

16
1888 Caesar Salad
Boar Bacon, Brioche Croutons, House Made Citrus Dressing
$

17
Heritage Roasted Squash Salad
Quinoa, Cranberries, Grapefruit, Fairwind Farm Goat Cheese, Spiced Maple Vinaigrette
MP
Fresh Shucked Oysters (Market Availability)
Cucumber Pink Peppercorn Mignonette, Cocktail Sauce, Lemon, Fresh Horseradish
MP
$

21
Crab Cake
Citrus Lobster Cream, Fennel Salad
$

21
Pork Belly & Scallop
Poplar Bluff Carrot & Juniper Purée, Pork Caramel, House Pork Rind
$

22
Alberta Beef Tartare
Pickled Mans Egg Yolk, Aïoli, Potato Crisps
MP
Chef's Feature Seafood Composition (Market Availability)
Whipped Potato, Seasonal Vegetables, Lemon
MP
$

49
Seared Black Cod
Lentil & Butternut Squash Succotash, Winter Vegetables, Citrus Soy Beurre Blanc
$

52
Sungold Braised Lamb Shank
Three Year Old Cheddar Polenta, Winter Vegetables, Natural Jus
$

46
Heritage Chicken Breast
Honey Glaze, Roasted Carrots, Wilted Greens, Potato Purée, Natural Jus
$

54
Grilled Wild Boar Chop
Duck Confit Fingerling Potatoes, Celeriac & Apple Purée, Caramelized Beets & Brussel Sprouts
$

52
Canadian Rangeland Bison Short Rib
Buttermilk Potato Pavé, Creamed Parsnip, Braised Carrots
$

48
Fraser Valley Seared Duck Breast
Braised Red Cabbage, Sweet Potato Fondant, Spiced Pear Chutney
$

36
Panko Crusted Tofu Bowl
Blended Grains, Charred Seasonal Vegetables, Basil Pesto
Hand Cut In House. Grilled on Wild Cherry Wood. Choice of Complimentary House Butter or Natural Jus.
$

48 6 oz | $70 10 oz
Benchmark Black Angus Filet Mignon
House Cured Boar Bacon
Bison Tenderloin
Canadian Rangeland
Bison Tenderloin
MP
Brant Lake Wagyu (Market Availability)
Beef Tenderloin
MP
Beef Striploin
Brant Lake Wagyu
Beef Striploin
$

65 12 oz
Benchmark Black Angus
House Dry Aged New York Striploin
Striploin
Québec Red Tail Venison
Striploin
$

85 24 oz
AAA Alberta Beef
Rib Eye
$

105 35 oz
AAA Alberta Beef
Porterhouse (Recommended for two)
$

155 40 oz
Benchmark Black Angus Tomahawk
House Dry Aged Rib Eye (Recommended for two)
-------------
SAUCES
-------------
$

6
Whisky Peppercorn Cream Sauce
$

11
Charred Wild Mushrooms, Shitake, King Oyster, Cremini
$

25
Canadian Butter Glazed Lobster Tail
$

18
Seared Québec Foie Gras
$

9
Sea Salt Baked Potato, Crème Fraîche, Chives, oar Lardon
$

9
Beef Tallow Whipped Potato
$

9
Roasted Sweet Potatoes, Thyme Butter & Maple
$

9
Wilted Greens, Lemon Zest, Crisp Boar Bacon
$

9
Roasted Golden Beets, Honey Rosemary
$

11
Aged Cheddar & Béchamel Mac & Cheese
$

9
House Cut Fries, Scallion Aïoli, Parmesan Cheese
$

9
Braised Rustic Carrots
MP
Chef 's Feature Vegetables (Market Availability)
MP
$

16
New York Cheesecake
Citrus Frosting, Graham Crumbs, Seasonal Fruit
$

13
Crème Brûlée
Honey Roasted Pears
$

14
Pavlova
Seasonal Compote, Meyer Lemon Curd, Crème Anglaise
$

15
Old Fashioned Apple Pie
Dulce de Leche, Choice of House Made Rye Caramel Ice Cream or Old Cheddar
$

14
Molten Chocolate Cake
Chocolate Fudge Sauce, Crème Chantilly