PHONE:
403.762.1003
ADDRESS:
110 Banff Avenue, second floor
MAINS:
$19 - $28
Enjoying good beer with good friends is one of Canada's favourite pastimes. Banff Avenue Brewing Company was started by 5 Canadian friends who love doing just that. These friends love beer and are passionate about sharing their craft brews and delicious pub creations for family and friends to enjoy. With everything from classic poutine to fish and chips, Banff's first and only brew pub is a stand out.
Cozy booths, an impressive bar, pool tables and a late night menu make Banff Avenue a destination for a good time. Enjoy beautiful views of Banff, and tasty treats while sipping on your fresh made brew.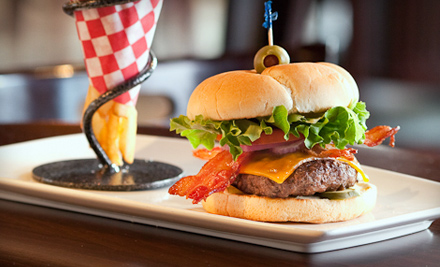 MENU
All burgers & sandwiches are served with fries but feel free to upgrade: gluten free-bun | daily soup $2 | sweet potato fries | mixed greens | caesar salad $3 | poutine $5
$

15
CRUNCHY FRIED BROCCOLI *V
muhammara roasted red pepper & walnut dip, lemon bread crumbs, aleppo chili flakes
$

16
SEARED TUNA TOSTADAS
marinated BC albacore tuna, fried tortilla, cabbage, avocado crema, pico de gallo, cilantro
$

12
POUTINE
fries, Quebec cheese curds, brown gravy, parsley
add slow cooked egg $2
add bison chili $5
$

13.5
WARM BUTTERED SOFT PRETZELS *V
Black Pilsner cheese fondue, IPA mustard
$

7.5
FRIED ALBERTA CHICKEN WINGS
choice of Korean barbecue | sweet soy and lemongrass | Frank's | sea salt & pepper, blue cheese ranch dip
$

21 |personal size $15
CLASSIC NACHOS *V + GF
home fried tortilla chips, diced tomato, black olives, pickled jalapeños, green onions, cheddar & jack cheese, salsa & sour cream
add fresh made guacamole | jalapeño beer cheese sauce $3
add grilled chicken $6
add bison chili $8
$

5.5
CRISPY FRIED PICKLES
banana peppers, bone marrow aioli
$

17
ALBERTA BEEF BURGER
8 oz chuck patty, butter lettuce, tomato, sliced red onion, dill pickle, burger sauce, yellow mustard, sesame seed brioche
add cheddar | American cheese | fried egg | sautéed mushrooms $2
add thick cut bacon $3
add bison chili $5
$

18
MEATBALL SANDWICH
original recipe, Alberta beef & pork, marinara sauce, basil, caramelized onions, dill pickles, melted provolone, toasted bun
$

16.5
BANFF AVE BLT
thick cut bacon, marinated beefsteak tomato, lettuce, bone marrow aioli, challah toast
$

18
BUFFALO CHICKEN SANDWICH
Frank's Red Hot, bacon, cheddar, lettuce, tomato, blue cheese ranch, asiago bread, available grilled or crispy
$

15
VEGGIE BURGER *V
baked edamame patty, soy glaze, spicy mayo, pickled vegetables, peas shoots, sesame bun
$

12.5
SIMPLE GREENS *V + GF
mixed greens, carrots, red onion, tomato, asiago, citrus honey vinaigrette
$

15
GRILLED CAESAR SALAD
romaine lettuce, bacon jam, slow cooked egg, parmesan, bread crumbs, roasted garlic dressing
add grilled chicken | garlic prawns $6
add salmon $8
$

14
CHARRED BRUSSELS SPROUT SALAD *V + GF
spiced pumpkin seeds, pomegranate vinaigrette, parmesan
$

12
ROASTED ONION & ALE SOUP
caramelized onions, bone broth, aged cheddar crouton
$

19.5
FISH & CHIPS
pilsner battered Oceanwise cod loins, pub fries, tartar sauce, classic coleslaw
$

24.5
SPICY BISON CHILI
chunky black pilsner braised bison chuck, pinto beans, peppers, corn, queso fresco cheese, cilantro, corn bread fingers, jalapeño honey butter
$

20
SPAGHETTI & MEATBALLS
classic comfort, marinara sauce, chili flakes, basil oil, shaved parmesan
$

19.5
MUSHROOM GNOCCHI *V
sautéed mushrooms, blistered cherry tomatoes, peas, Jasper Crisp Pils, gorgonzola cream sauce, parmesan, dill
$

29
BRAISED LAMB SHANK
roasting vegetables, mashed potatoes, lamb & beer jus, chimichurri
$

28
PAN SEARED ORA KING SALMON
aromatic herbs, steamed broccoli, potato cake, ginger citrus sauce
$

24.5
ELK BREWER'S PIE
minced elk & pork, stout gravy, mirepoix vegetables, peas, corn, mushrooms, potato souffle
$

31
GRILLED ALBERTA BEEF SIRLOIN
8 oz Sterling Silver, garlic herb butter, house steak sauce, charred brussels sprouts, mashed potatoes
$

15
FRIED ALBERTA CHICKEN WINGS
choice of Korean barbecue I sweet soy & lemongrass I Frank's I sea salt & pepper, blue cheese ranch dip
$

13.5
WARM BUTTERED SOFT PRETZELS *V
coarse sea salt, black pilsner cheese fondue, beer mustard
$

20 | personal size $14
CLASSIC NACHOS *V + GF
home fried tortilla chips, diced tomato, black olives, pickled jalapeños, green onions, cheddar & jack cheese, salsa & sour cream
add fresh made guacamole | jalapeño beer cheese sauce $3
add grilled chicken $6
add bison chili $8
$

12
POUTINE
fries, Quebec cheese curds, brown gravy, parsley
add slow cooked egg $2
add bison chili $5
$

16
BANFF AVE BLT
thick cut bacon, marinated beefsteak tomato, lettuce, bone marrow aioli, challah toast
$

17
ALBERTA BEEF BURGER
8 oz chuck patty, butter lettuce, tomato, sliced red onion, dill pickle, burger sauce, yellow mustard, sesame seed brioche
add cheddar | American cheese | fried egg | sautéed mushrooms $2
add thick cut bacon $3
add bison chili $5
$

12
BANFF AVE APPLE PIE *V
updated classic: Fiasco white cheddar gelato
$

9
BAKED CHEESECAKE *V
graham streusel, rhubarb compote