PHONE:
403.760.3030
ADDRESS:
117 Banff Avenue
MAINS:
$ 15 - $ 54
Casual and comfortable, the Keg offers great steaks and an even better atmosphere. Whether you are looking to enjoy a nice meal with family and friends or grab a few drinks, this is the spot for you. A Banff favourite for their service and yummy fare, The Keg truly has something for everyone. Dining with allergies? Fear not, The Keg has a separate gluten free menu and an allergy guide which lists popular allergies and the meals to watch out for.
Fancy a cocktail? Here you will find a full menu of specialty cocktails freshly shaken just for you. With drinks like the Rosemary Gimlet and the Sparkling Peach, you are bound to have a good night. Beer drinkers can delight in draughts and local bottled options like the Village Maiden India Session Ale. With choices galore and yummy fare to keep you coming back, put The Keg at the top of your list.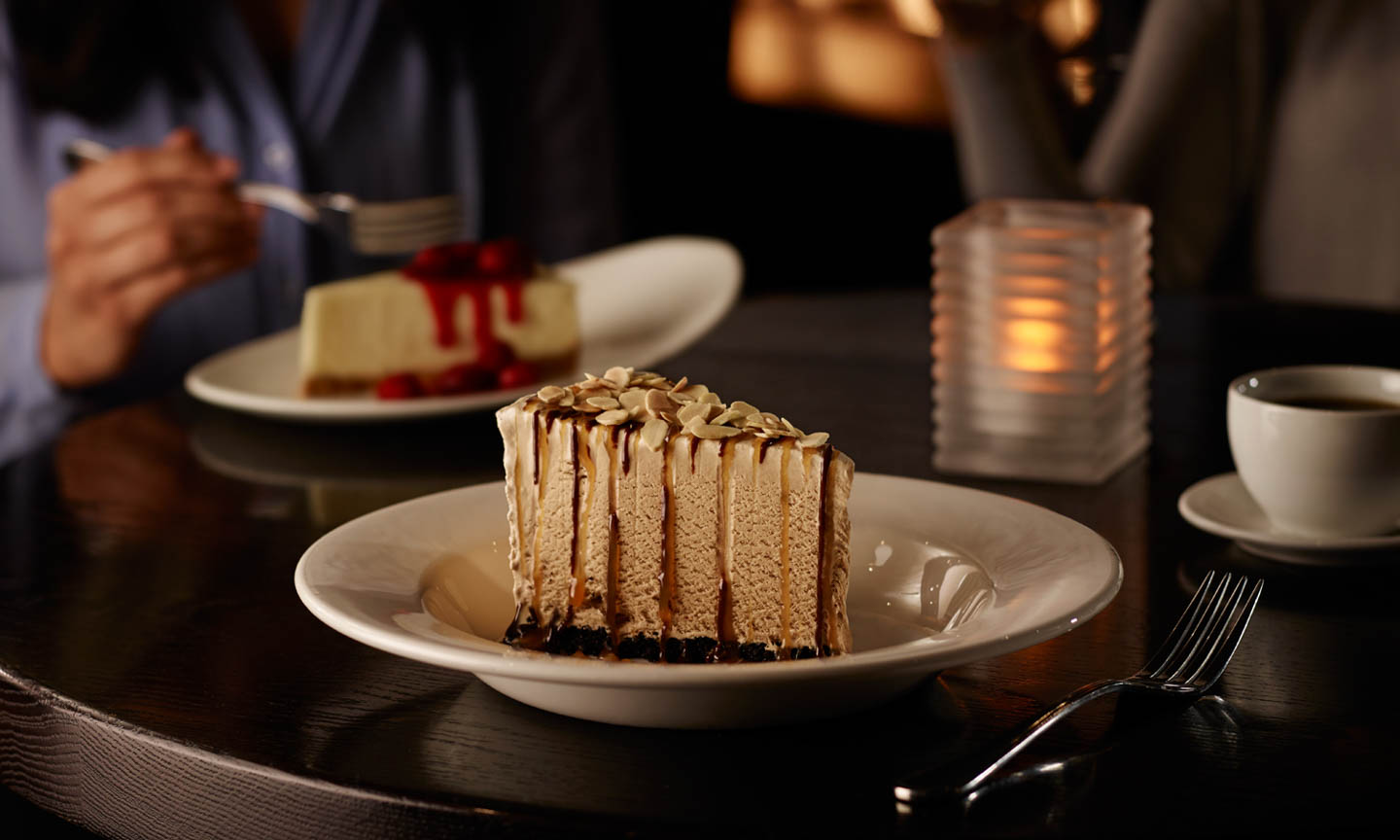 ESCARGOT
Stuffed mushroom caps with garlic and herbs.
MUSHROOMS NEPTUNE
Stuffed with crab and cream cheese.
SHRIMP COCKTAIL
Chilled Black Tiger shrimp with a zesty martini cocktail sauce.
BAKED GARLIC SHRIMP
Succulent shrimp finished with garlic, herbs and cheese.
SCALLOPS & BACON
Served with a zesty martini cocktail sauce.
CALAMARI
Lightly fried and served with spicy sweet ginger garlic sauce and Greek feta sauce.
TUNA TARTARE
Sesame-soy seasoned Ahi served on fresh avocado.
BAKED BRIE
With basil pesto and red pepper jelly. Served with crostini.
FRENCH ONION SOUP
Hearty beef broth with Sherry, Spanish onions, Swiss and Parmesan cheese.
KEG CAESAR
Crisp romaine and aged Parmesan cheese tossed in Keg's own creamy dressing.
MIXED GREENS
Field greens and garden vegetables in a vinaigrette dressing.
ICEBERG WEDGE
With tomatoes, crispy bacon and buttermilk ranch or Bleu cheese dressing.
CALIFORNIA GREENS
Artisan greens with black beans, cremini mushrooms, tomatoes, and fresh avocado. Topped with pine nuts and mango sesame dressing.
KEG BURGER
Keg's own fresh blend of chuck, brisket and sirloin. Crisp lettuce, tomato, red onions, pickles, jalapeño maple aioli, applewood smoked bacon and cheddar cheese. Served with Keg fries.
TUNA TACOS
Ahi tuna on warm tortillas with cabbage slaw and cilantro. Served with jalapeño maple aioli.
ROASTED PORTABELLA MUSHROOMS
Stuffed with vegetables and Asiago cheese. Served with Asiago rice and vegetable garnish.
PRIME RIB SLIDERS
Shaved fresh off the roast and finished with horseradish Dijon. SURF + TURF Two tender mini filet medallions and a 3 ounce Atlantic lobster tail. Served with cabbage slaw and asparagus.
Prime Rib
Aged for extra flavour and tenderness, rubbed with our unique blend of spices and slow roasted. Hand-carved and served with horseradish and red wine herb jus. (10 oz) • (14 oz)
Keg Cuts
Our cuts are well trimmed, aged to perfection and grilled over high heat with Keg seasoning, resulting in a juicy and flavourful steak.
Top Sirloin
Considered the most flavourful steak. (6 oz) • (8 oz) • (12 oz)
Teriyaki Sirloin
A Keg favourite. (8 oz)
Filet Mignon
Tenderloin wrapped in applewood smoked bacon and served with Béarnaise. The ultimate in tenderness. (7 oz) • (10 oz)
Rib Steak
A hearty bone-in rib steak served with sautéed field mushrooms. (20 oz)
Baseball Top Sirloin
So thick that medium rare is the most we can cook it! (12 oz)
New York
Tender New York striploin. The King of steaks. (12 oz)
BLACKENED SIRLOIN
Coated with select herbs and spices, finished with herb butter. (8 oz)
SIRLOIN OSCAR
Topped with shrimp, scallops, asparagus and Béarnaise sauce. (8 oz)
BLEU CHEESE FILET
Wrapped in applewood smoked bacon. Bleu cheese crusted and finished with roasted garlic cloves. (7 oz)
PEPPERCORN NEW YORK
Crusted striploin finished with whisky peppercorn sauce. (12 oz)
STEAK & LOBSTER
Grilled top sirloin with an oven baked, 6 ounce Atlantic lobster tail. (6 oz) • (8 oz)
Keg Classics
Start with a Caesar, mixed greens or iceberg wedge salad, then choose your favourite Keg steak or slice of prime rib. Served with sautéed field mushrooms and your choice of accompaniment.
TOP SIRLOIN (8 oz) • TERIYAKI SIRLOIN (8 oz) • FILET MIGNON (7 oz) NEW YORK (12 oz) • PRIME RIB (10 oz)
Fish
Responsibly sourced from certified sustainable fisheries and served fully plated as described.
PISTACHIO CRUSTED SALMON
Served on garlic mashed potato, bacon sautéed Brussels sprouts, and maple butter.
BLACK COD
Oven baked and served on Asiago rice and steamed asparagus, topped with tomato cucumber salsa.
SESAME TUNA Seared rare on a bed of fresh cabbage slaw, topped with soy sesame dressing.
Chicken
Pan seared and oven roasted chicken breast with drumette, served fully plated as described.
SUPREME CHICKEN BREAST
Served with garlic mashed potato and bacon sautéed Brussels sprouts. Finished with demi-glace.
BACON WRAPPED CHICKEN
Stuffed with Asiago cheese and served on garlic mashed potato. Finished with cabbage slaw and asparagus purée.
THAI CHICKEN
Served on Asiago rice and topped with sautéed onions, bell peppers and asparagus in a sweet chili sauce.
Ribs
Braised pork back ribs, finished on the grill and served fully plated as described.
BBQ RIBS
Served with Keg BBQ sauce, cabbage slaw and Keg fries. half rack • full rack
CHICKEN & RIBS
Supreme chicken breast paired with a half rack of BBQ pork back ribs. Served with cabbage slaw and Keg fries.
BILLY MINER PIE
Mocha ice cream on a chocolate crust with hot fudge, caramel and almonds.
CHEESECAKE
Thick and creamy, with a fruit topping.
BROWNIE SUNDAE
A chocolate brownie with vanilla ice cream, hot fudge, caramel and whipped cream.
ICE CREAM
Premium vanilla ice cream served with your choice of chocolate sauce, caramel or fruit topping.
CRÈME BRÛLÉE
Silky and smooth. Topped with a caramelized sugar crust.
SWEET MINIS
A little something to satisfy that sweet tooth.
FUDGE BROWNIE
Served warm with vanilla ice cream. Finished with caramel, hot fudge and whipped cream.
MANGO BRÛLÉE
Mango infused, with a caramelized crust.
Meals include a soft drink, juice or milk and ice cream for dessert. (for children under 12)
$

4.00
Molson Canadian 11 oz
$

4.00
Granville Island 11 oz
$

5.00
Caesar, Margarita or Mojito
$

6.00
WINES BY THE GLASS (6 oz)
Robert Mondavi - Cabernet or Chardonnay
$

7.00
Knotted Vines - Pinot Gris & Riesling
$

7.00
Jet - Shiraz, Cabernet & Zinfandel
$

7.00
Mushrooms Neptune • Baked Garlic Shrimp
$

8.00
Keg Sliders • Calamari