PHONE:
403.678.1600
ADDRESS:
2000 Silvertip Trail
PRICE RANGE:
$48 - 119
100% Canadian Prime steak is a distinction given to less than 1% of beef in Canada, it is clearly not easy to achieve. Rustica serves only the best of the best cuts of meat which meet this prestigious distinction. Incredible flavour, cooked flawlessly and melt in your mouth delicious is what Rustica prides itself on. These could make a vegetarian turn to meat, they are truly that good.
Each dish has been expertly paired by their in-house Sommelier to ensure your dining pleasure. With a luxurious dining room and an upscale feel, this is the perfect spot for a special occasion and an incredible meal. Wine and dine yourself, you need to treat yourself and Rustica is definitely the place.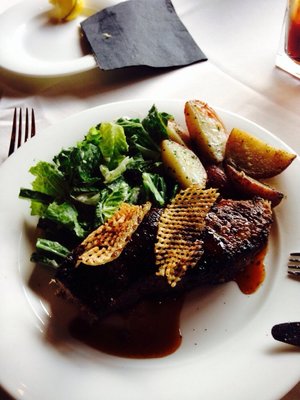 Adults $29.00 / Children 6-12 $16.0 / Under 6 free with adult Includes weekly variety of cold buffet items, coffee and tazo tea. Choose any of the following:
Valbella breakfast sausages
Free range eggs
cooked the way you like them
Strips of double smoked bacon
Eggs benedict
with back bacon or smoked salmon
House cut hashbrowns
with fresh herbs, parmesan, salt
Short rib hash
potato, onions, spinach, poached egg
French toast
buttermilk, brioche bread, cranberry & orange compote
Frittata
roasted mushrooms, ham and, cheddar
$

12.00
Seafood Chowder
focaccia crisp, chives, bacon crumble
$

13.00
Spring Salad
golden beets, shaved vegetables, goat cheese, rhubarb dressing
$

14.00
Romaine Salad
caesar dressing, croutons, triple smoked bacon
$

18.00
Steamed Mussels
leeks, roasted garlic, herb butter, bread
$

16.00
Steelhead Poke
quinoa, avocado, sesame, masago
$

16.00
Charcuterie & Cheese
house made pickles, mustard, stone fruit jam, bread
$

17.00
Tuna Nicoise
oven dried tomato, green beans, potato, egg
$

16.00
Taco
grilled fish, guacamole, cabbage
$

16.00
French Dip
pepper crusted beef, caramelized onions, cheddar, horseradish jus
$

16.00 /

$

22.00
Fish & Chips
beer battered, tartar sauce, cabbage slaw
$

16.00
Chickpea Burger
avocado, tomato, jalapeno aioli
$

18.00
The Silvertip Burger
aged cheddar, lettuce, tomato, pickle
$

17.00
Fried Chicken
hot sauce, coleslaw, pickles
Raspberry Chocolate Trifle
brownie, vanilla cream
Vanilla Bean Creme Brulee
burnt sugar, biscotti
Burnt Lemon Meringue Tart
raspberry sorbet
$37.50 per person for dinner
Beef Tartar
lavosh chips, salted egg yolk, gherkins
Side Strip Shrimp Cocktail
roasted garlic bread crumbs, pea shoots, lemon gel
Whipped Goat Cheese
tomato & smashed cucumber salad, white balsamic
Duck Confit
white bean cassoulet
Seared Red Albacore Tuna
cabbage wontons, clams, shiitake mushrooms
Papardella Pasta
english peas, house made ricotta, lemon
Praline Parfait
thyme sugar, candied nuts
Flourless Chocolate Cake
strawberry sorbet, mint syrup
$

6.00
House Made Potato Chips
$

14.00
Chicken Liver Pate
$

16.00
Charcuterie & Cheese
Smoked Cod Soup
mirepoix, bread stick, bacon
$

13.00
Spring Salad
golden beets, shaved vegetables, goat cheese, rhubarb dressing
$

14.00
Romaine Salad
caesar dressing, croutons, triple smoked bacon
$

17.00
Tuna Nicoise
oven dried tomato, egg, green beans, olives, potato
$

16.00
Prawn Cocktail
roasted garlic brioche, cocktail sauce, peashoots
$

17.00
Heirloom Potato Salad
manchego cheese, white balsamic, radish shoots
$

27.00
Steelhead Trout
sunchoke ravioli, beets, spinach, lemon emulsion
$

30.00
BC Halibut
chorizo, white beans, clams, tomato vinaigrette
$

25.00
Potato Gnocchi
English peas, lemon, house made ricotta
$

55.00
Prime Beef Tenderloin
buttermilk mash potato, spinach, peppercorn sauce. 7 ounce
$

59.00
Prime Ribeye Steak
root vegetable, confit fingerling potato, celery root puree, red wine jus. 10 ounce
$

54.00
Venison Loin
potato gnocchi, golden beets, crushed peas, gin jus
$

28.00
Flat Iron Steak & Frites
$

4.00
Bacon & Maple Doughnut
$

10.00
Flourless Chocolate Cake
pecan crumble, lemon sugar, sorbet
$

10.00
Vanilla Bean Creme Brulee
burnt sugar, biscotti, rhubarb
$

10.00
Sweet Tooth Tasting