PHONE:
403.678.3404
ADDRESS:
838 8 Street
A true Canmore experience is waiting for you at the Wood. With the best of Alberta from beef steaks, homemade burgers, and ribs, the Wood packs a punch with their classic pub food. This is the perfect spot to catch a game or catch up with friends. A wide selection of libations with 18 beers on tap, an extensive wine list and yummy signature cocktails. With huge TVs and tickets to all the big events, you won't miss a beat. If sports aren't your thing, lounge out on the patio and enjoy the amazing views.
Service and yummy pub classics with drinks and fun to boot. The Wood is your new favourite neighbourhood pub.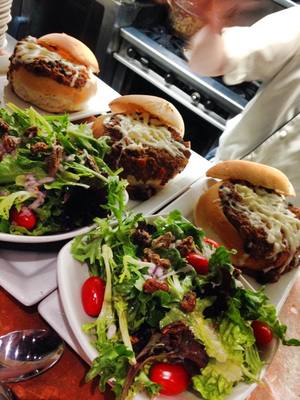 Starters and Shares
Appetizers
Almost Famous Chicken Wings
Canmore's favorite wings! Choice of BBQ, hot, jamaican jerk, salt and pepper, honey sriracha, sweet chili, teriyaki or honey garlic
Crispy Yam Fries
Fresh made and sea salt spiced served with chipotle mayo
Baked Bruschetta Flatbread (Vegan)
With bocconcini cheese, heirloom tomatoes, red onion, fresh basil and balsamic glaze on garlic flatbread
Edamame (Vegan)
Steamed and salted soybeans
Crispy Dry Ribs
Tossed with cracked pepper and sea salt – sweet chili dip
Creamy Baked Crab and Artichoke Dip
With focaccia toasts for dipping
Poutine
A classic Canadian comfort food. Golden fries, cheese curds and gravy
add smoked brisket or pulled pork $13
Appetizer Combo
Choose three of our above appetizers Great for groups!
Kale Salad
Kale, quinoa, poached pear, toasted curried pumpkin seeds, feta cheese and seasonal berries in a lemon chardonnay dressing
Goat Cheese, Beet & Spinach Salad (Gluten Free, Vegan)
Goat cheese, pickled beets, spinach greens, red onions, cherry tomatoes and strawberry balsamic dressing
Caesar Salad
Caesar dressing, smoked bacon, parmesan cheese and herb crostini
Watermelon Salad (Gluten Free, Vegan)
Fresh cut watermelon, heirloom tomatoes, fresh bocconcini, basil, cucumber ribbons and aged balsamic crème
.
Grilled Vegetable Sandwich
Grilled portabella mushroom, zucchini, red peppers, onions & goat cheese on a baguette with sundried tomato pesto & arugula
.
Alberta Beef Burger
Jalapeno Monterey jack, tomato, red onion, lettuce and grainy dijon mayo
Smoked BBQ Beef Brisket Dip
Slow smoked beef brisket, boursin cheese and caramelized onion au Jus on demi baguette
Open Face Chicken Grill
Grilled herbed chicken, lettuce, tomato, avocado, herbed feta cheese and roasted garlic honey mayo on grilled french loaf
Salmon Burger
Oven roasted panko breaded BC salmon, cucumber wasabi mayo, tomato, onion and rocket greens
Steak Sandwich
6 oz Top sirloin steak, garlic toast, topped with sautéed mushrooms
Bacon Mac and Cheese
In house Smoked bacon, mushrooms and spinach cream sauce, cavatappi pasta, shaved parmesan and panko topping, with garlic toast
Seafood Fettuccine
Jumbo prawns, crab, salmon and mussels with lemon chili oil, fresh herbs and parmesan cheese
Asian Noodle Stir Fry (Vegan)
Mixed vegetables, asian noodles with a ginger and lemongrass sauce . Add chicken or beef for extra cost.
Pork Chop (Gluten Free)
Alberta raised pork with a pineapple and apple chutney
Chicken Supreme (Gluten Free)
Grilled chicken supreme with a roasted garlic and maple glaze
Pan Seared Salmon (Gluten Free)
Pan seared pacific salmon with mango and dill salsa topped with avocado and lime
Top Sirloin Steak 9oz (Gluten Free)
Top sirloin steak, flame grilled to your liking
Rib Eye Steak 10oz
Rib eye steak, flame grilled to your liking
Three Sisters Mousse
Enjoy the view of the three sisters on your table with The Wood's one of a kind three sister's mousse. Dark, milk and white chocolate with an oreo crumble
Peaches & Cream
Maple roasted peaches, ice cream and raspberry coulis.
New York Cheese Cake
topped with blueberry compote and served with vanilla ice cream.
Midnight Mint Chocolate Chip
Smooth and thick mint dark chocolate, flourless cake. And chocolate ice cream.
Creme Brulee
A classic French Vanilla crème brulee and biscotti.
Kids Burger
Kid size burger topped with cheese with fries or salad
Chicken Tenders
The Kid classic! With plum sauce and fries or salad
Grilled Cheese
Made with Canadian cheddar, served with fries or salad
Grilled Chicken Breast
Grilled breast of chicken, served with fries or salad
Kids Pizza
Kids size cheese pizza
Pigs In Pretzels
Two mini hot dogs in pretzel buns, fries or salad
Cheese Stuffed Tortellini
With butter and cheese OR marinara sauce