PHONE:
604-567-2772
ADDRESS:
40022 Government Road
MAINS:
$12 - $17
Transcend rainy Howe Sound, and arrive in spicy Thailand....Helloooo, Spice Root Kitchen and Bar!
I don't know which to talk about first, the food or the cocktails.
Their thai food menu features vibrantly spiced salads, curries, soups and noodle dishes that will get your tastebuds excited and your sweat glands activated.
But lo....no!...the drinks are really where my mind goes first.
Delicately crafted cocktails make the Spice Root one of my favorite cocktail bars in town, even though they're not exactly a cocktail bar. They should be. The ambiance is very lounge-y with dark hues, comfy couches, and a big fireplace. I easily get lost in the completely immersive comfort, and complex flavors of their extraordinarily well made Old Fashioned. At the back of the restaurant there's a big room, fantastic for an adult birthday party, where you can sit down, stand up, move couches and chairs, and get cozy.
When the food arrives be prepared to be punched in the face with flavor, taking you out of whatever mind drift you've fallen into, and landing you smack dab in the middle of Bangkok.
Take a break from the norm, and travel to The Spice Root if you're ready for some sensual awakening.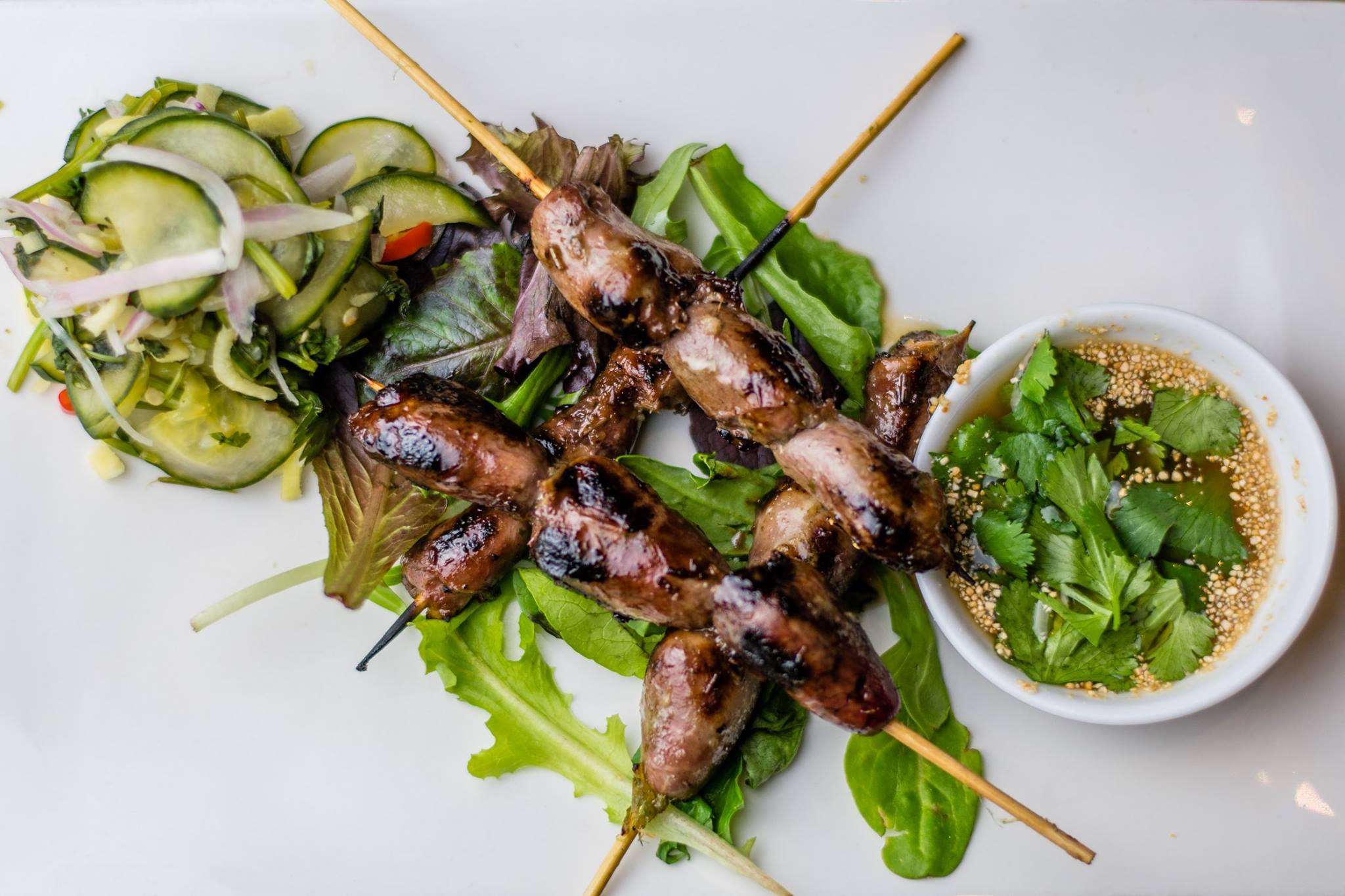 Menu
Proud to serve grain fed pork, free run chicken & eggs & oceanwise seafood!
$

9
Muu Ping (Pork skewers)
Bangkok street food - pork belly and tenderloin marinated in fish sauce, dark soy, palm sugar and white pepper. Served with cucumber relish and jaew dipping sauce.
$

7.5
Popia Tort (Spring rolls)
our most popular appetizer! Deep fried, house wrapped spring rolls stuffed with carrot, cabbage, bean sprouts, egg, tofu, ginger, garlic and bean thread noodles. Served with sweet chili or almond chili dipping sauce.
$

14
Hoi Malaeng Puu (Pan steamed mussels)
Atlantic mussels steamed in choice of coconut milk broth flavoured with garlic, ginger, Thai basil and cilantro or spicy red curry broth topped with cilantro and lime leaves. Served with jasmine rice.
$

8
Pad Tua Fak Yao (Stir fried long beans)
long beans and gai lan and spinach wok fried with chili, garlic, sugar, fish sauce, yellow bean paste and deglazed with pork stock. Topped with crispy garlic and served with cabbage.
$

12
Tort Man Pla (Fish cakes)
cod cakes spiced with house made red curry paste, kaffir lime leaf and long beans. Served with cucumber relish.
$

7.5
Popia Sod (Salad rolls)
rice paper rolls stuffed with shrimp or tofu, fresh herbs, pickled daikon and carrot. Served with sweet chili, almond chili or herb fish sauce.
$

12
Peek Gai (Chicken wings)
free range wings, coated in seasoned flour and twice fried. hot/ curry butter/ lemon pepper
$

10
Som Tam (Green papaya salad)
green papaya, long beans, grape tomatoes and dried shrimp lightly pounded in a mortar and pestle with a spicy fish sauce dressing. Served with cabbage, crushed peanuts and herbs. mild/ medium/ spicy/ thai spicy
$

10
Yam Khai Dao (Fried egg salad)
crispy fried free run eggs, cilantro, carrots, shallots, green onion and mixed greens tossed with lime juice, fish sauce, palm sugar syrup, garlic and chili.
$

14
Neua Nam Tok (Issan steak salad)
grilled flank steak, wild mushroom, mint, cilantro, shallots and lemon grass. Tossed with lime juice, fish sauce, pork stock, chilli jam and topped with toasted sticky rice.
Laap
Laap, best translates to minced meat salad. It's prepared in many different ways depending on where you are in Thailand but is always a warm, complex and exciting dish. For the versions that we serve, we'll be taking notes from the Isaan style of preparing the dish. Stir fried with garlic, galangal, shallot paste then tossed with lemon grass, lime leaves, fresh herbs, roasted sticky rice and roasted chilli powder. Usually served spicy, but can always adjust to your preference.
$

13
Laap Gai Wun Sen (Chicken laap with glass noodles)
chicken laap tossed with glass noodles, fresh herbs and served with cabbage
$

12
Laap Het (Mushroom laap)
oyster and shimeji mushroom laap tossed with green onion and served with fresh herbs, veggies and cabbage (can be made gluten free on request)
$

14.5
Kuaytiaw Reua (Boat noodles)
originally sold from boats on the Chao-praya river. House-made pork meatballs, pork shoulder and noodles in a flavourful broth spiked with galangal, lemongrass, cinnamon, star anise and chili and finished with spinach, bean sprouts and herbs. Choose from bean thread noodles, regular or wide rice noodles.
$

14
Tom Yum Goong Kuaytiaw (Tom yum prawn noodles)
modern Bangkok version of the famous Thai hot and sour soup. Prawns, mixed vegetables and rice needles in a rich, spicy tom yum broth enriched with evaporated milk. Topped with bean sprouts, cilantro, crispy garlic and dried prawn floss (available dairy free on request)
$

16
Gaeng Karee (Yellow curry bowl)
mild, southern style curry - Choice of chicken, beef, prawns or tofu with potatoes, onions, zucchini, gai lan and bamboo shoots in a sauce made from yellow curry paste. Heavy with turmeric and enriched with coconut milk, seasoned with fish sauce and lime juice (available vegan on request)
$

16
Gaeng Dtaeng (Red curry bowl)
choice of chicken, beef, prawns or tofu in this Southern Thai red curry paste enriched with coconut milk with topped with bamboo shoots, pineapple, zucchini, gai lan, mushrooms, long beans, eggplant topped with Thai basil (available vegan on request)
$

17.50
Gaeng Bpa Pla (Jungle curry)
Northern style curry of catfish - served in a fiery jungle broth (paste is enriched with stock rather than coconut milk giving a sharper, spicier flavour) with zucchini, mushrooms, baby corn, grape tomatoes and peppercorns. Finished with cilantro, lime leaves and crispy shallots.
$

15.50
Khao Pad Sapparot (Pineapple fried rice)
chicken, beef, prawns or tofu wok fried with jasmine rice, pineapple, egg, long beans, carrots, peppers, baby corn and mild spices, topped with cashew nuts, lime leaves, lemongrass, cilantro and coconut cream (available gluten free/ vegetarian/ vegan on request).
$

15.50
Pad Thai (Pad thai noodles)
one of the most recognized Thai dishes - chicken, prawns or tofu stir fried with rice noodles, long beans, carrots, bean sprouts and egg in a medium spiced tamarind fish sauce, served with crushed peanuts (vegetarian / vegan on request)
$

15.50
Suki Haeng Goong (Thai style dry prawn suki)
prawns, free run egg, gai lan, wild mushroom, shallots and carrots wok fried with house made Thai suki sauce, then tossed with glass noodles and green onions
$

16.50
Neua Pad Bai Grapao (Stir fried beef & basil)
a house favorite! Flank steak stir fried with gai lan, red peppers, chili and crispy basil, served with jasmine rice and topped with a fried egg.
$

16.50
Pad Ped Sai Ua (Stir fried sausage)
Chef Cecchini original - stir fried chicken, prawns, zucchini, wild mushrooms, grape tomatoes and green peppercorns in a spicy, thick red curry sauce with grilled, house-made Chiang Mai sausage.
$

14.50
Pat Phak Ruam Mit (Veggie stir fry)
gai lan, long beans, carrots, peppers, wild mushrooms, and cashew nuts, wok tossed with yellow bean sauce and tom yum paste, served with jasmine rice (can be made gluten free / nut free on request)