PHONE:
1.800.889.9688
ADDRESS:
1528 Whiffen Spit Rd
MAINS:
$25 - $35
Have you been here before? If not, why not? Think you can't afford it? Not sure what to wear? Not sure how to hold and fork and spoon? You can afford it and there is youtube to teach you how to dress and eat, so get yourself sorted and make sure you experience this award winning venue located just outside of Victoria in scenic west coast Sooke.
Staying overnight? Continental breakfast is complimentary, and the fine-dining restaurant offers a seasonal menu featuring produce from its own garden. Yep, its own gardern. Dining at Sooke Harbour House is an experience of pleasantly satisfying surprises. Their menu changes daily to allow them to serve only the freshest local ingredients. With a garden of more than 200 edible plants, you will be blown away in every single dish, created daily. Local up folks.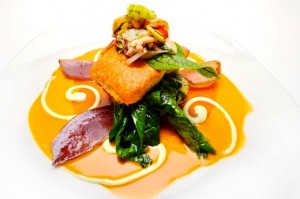 $

9.50
House Salad or Lobster Bisque, Wine Pairing - Mt Boucherie Riesling
$

9.50
Braised Lamb Shank or Veal Marsala, Wine Pairing - Red Rooster Merlot
Crème Caramel or Chocolate Mousse
$

7.95
Caesar Salad or Escargot, Wine Pairing - Peller Estate Chardonnay
$

9.50
6oz Filet Mignon or Salmon En Croûte, Wine Pairing - Red Rooster Merlot
Crème Brûlée or Cheesecake
$

15.00
Sooke Harbour House Breakfast
Two Eggs any style, potato roesti, local bacon or sausage, red fife whole wheat toast, house preserves
$

17.00
Eggs Benedict
Poached eggs on toasted butter brioche, house cured ham, hollandaise, hash browns with root vegetables
$

12.00
Blueberry Pancakes
Maple Syrup, hazelnut butter, triple berry compote, quince crème chantilly
$

9.50
Parfait
Homemade granola layered with our house yoghurt and organic berry compote
$

12.00
Continental
Three fresh baked pastries, butter, jam, yoghurt, fruit compote, and granola
$

7.50
Sooke Harbour House Winter Salad
Cabbage, carrots, leeks, fennel, apple cider vinegar and grapeseed oil vinaigrette
$

9.00
Plum Tomato Soup
A plum tomato soup served with rye sourdough croutons, herbed sour cream
$

15.00
Dungeness Crab Strudel
Shaved Anjou pear and fennel salad, pickled fuki remoulade
$

9.50
Warm Potato and Smoked Salmon
Fingerling potatoes, smoked Sockeye salmon with a grainy Dijon mustard vinaigrette, green onion, apple julienne, and our Sooke Harbour House Winter Salad
$

11.00
Warm Beets and Goats Cheese Salad
Golden and red beets, spinach, toasted walnuts, goat cheese and mustard vinaigrette
$

16.00
Quadra Island Mussels and Clams
White wine broth with root vegetables and bacon
$

18.00
Roasted Squash Raviolin
Tomato sauce, shaved Alpindon cheese with julienne spinach
$

17.00
Fried Samosas
Filled with Beluga lentils, caramelized onions, grilled apples, sour cream and a side of our Sooke Harbour House Winter Salad
$

19.50
Grilled Pork Tenderloin Medallions
Polenta, carrots, buttercup squash, meat stock reduction, with a sundried cranberry, apple relish
$

19.50
Pan Seared Sole Fillet
Pan seared sole, winter squash barley risotto, wilted spinach, sauce polonaise