PHONE:
604.932.8334
ADDRESS:
4232 Village Stroll
MAINS:
$ 10 - $ 16
With a patio overlooking the Village Square, the Amsterdam is the place to see and be seen. Whether chillin' on the patio after a day on the hill, or having drinks and snacks before the bar, the Amsterdam is the perfect hangout. Come in by yourself or with your buddies, there's always someone lookin' to have some fun. Tunes are blasting from the massive sound system all day.

Located in an old European pop-style setting, the Amsterdam offers mom's home-style cooking with old favorites such as Shepard's Pie. Breakfast is served from 11am to 3pm but our menu also includes 'breakfast anytime' plates.

From snacks to full meal we have it all: soups, salads,burgers, pizzas, pastas... and delicious sweets! You don't need an excuse to enjoy the unique atmosphere, which begins as soon as the doors open and ends in the early hours of the morning
The Dam is small and rowdy and has a good patio in the centre of the village. Cheap drinks during Happy Hour.
The Amsterdam Pub is situated right in the centre of Whistler village and its patio is one of the busiest in town-Summer or winter. By day good priced pub food is served which continues well into the evening. At night the atmosphere is relaxed with either sport on TV or music blaring from the sound system. The crowd is usually a good mixture of both locals and tourists but usually attract a younger crowd at night. Inside the walls are full of old posters for concerts & movies and there was obviously a bit of thought put into its decoration.
Pub fare cuisine in the heart of the Village. A quaint outdoor patio with overhead umbrellas and a European flavour gives this place a local and young person "Amsterdam-ish" flavour.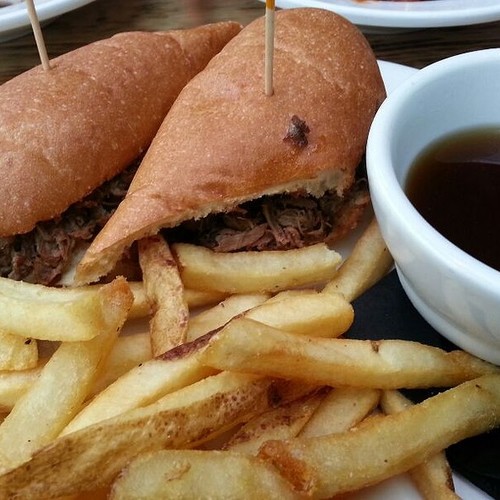 $

7.95
The Bouncer
2 sunny side up eggs, seared black forest ham and gouda cheese on toast, served with hashbrowns
$

14.95
The Big Breakfast
3 eggs any style with 2 breakfast sausages, 3 strips of bacon, golden hashbrowns and 2 fluffy pancakes
$

9.95
Local Breakfast
2 eggs any style with golden hashbrowns, whole wheat toast and your choice of bacon or breakfast sausage
$

10.95
Pancakes
golden pancakes served with table syrup
$

12.95
Strawberry Pancakes
our pancakes served with delicious strawberry compote
$

12.95
Banana Pancakes
pancakes with caramelized banana
$

11.95
Eggs Benedict
2 soft poached eggs and black forest ham on an English muffin topped with house-made citrus hollandaise and served with hashbrowns
$

12.95
Hangover Benny
sliced capicola ham and crispy onion ring on English muffin topped with 2 soft poached eggs and citrus hollandaise
$

10.95
Dutch Omelette
Dutch style omelette with arugula, gouda cheese and chillies, served with golden hashbrowns and whole wheat toast
$

10.95
Cheese Omelette
fluffy eggs with gouda cheese
$

6.45
Bloody Caesar / Bloody Mary
$

6.95
Classic French Onion Soup
rich homemade beef broth and caramelized onions with herb crostini and melted swiss cheese
$

4.95
Soup De Jour
soup of the day
$

9.95
Dutch Green Salad
fresh green leaf medley with diced tomato, feta cheese, toasted sunflower seeds and a maple grapefruit vinaigrette
$

10.95
Caesar Salad
crispy romaine lettuce and herbed croutons with asiago garlic dressing and shaved grana padano parmesan cheese
$

11.95
Ginger's Spinach Salad
roasted hazelnuts, dates and crumbled goats cheese, tossed with fresh spinach and a honey ginger vinaigrette and topped with pineapple
$

4.00
+grilled chicken or sautéed prawns to any salad
$

9.95
Margherita Pizza
sliced tomato, basil leaves and grated mozzarella with tomato sauce
$

11.95
Spicy Pepper Pizza
hot banana peppers, capicoli and feta cheese with tomato sauce
$

11.95
Chicken on Vacation
Fraser Valley chicken, pineapple, onions and cilantro
$

10.95
Southwest BBQ
pulled pork, green onions and jalapeno
Both Hands Sandwiches
Amsterdam Cafe Pub proudly uses free-range, hormone free Angus beef for all of it's burgers. Served with fries, mixed greens or cup of soup. Substitute Caesar salad, sweet fries, French onion soup, poutine or onion rings for $2.45
$

9.95
Amsterdam Burger
heritage Angus beef burger on a kaiser with leaf lettuce, tomato, onion, pickle and mayo
$

10.95
Chicken Burger
yup...the same but with chicken. You're so smart!
$

11.45
You're Cheesy Burger
it's the Amsterdam with gouda cheese
$

12.95
Hawaiian Burger
start at Amsterdam...then add pineapple and teriyaki sauce
$

14.95
The Flying Dutchman Burger
it's the Amsterdam burger with mushrooms, bacon and gouda cheese
$

15.95
Aussie Burger
heritage Angus beef topped with pickled beet, gouda cheese, bacon, fried egg, leaf lettuce, fresh tomato, sliced onion and pineapple
$

11.95
Veggie Villain
nut and grain burger patty with hummus, lettuce, tomato, onions, pickle and basil aioli
$

12.95
Club Sandwich
2 thick pieces of French bread, smoked turkey breast, crispy bacon, leaf lettuce, tomato, onion and pickle
$

9.95
BLT
bigger, louder, tastier! Bacon, leaf lettuce, sliced tomato and mayo on whole wheat toast
$

11.95
Canadian Beef Dip
juicy roasted beef on a toasted hoagie served with au jus for dipping
$

11.95
Pulled Pork Roll
simmered in our homemade BBQ sauce and topped with our house coleslaw. Get it spicy or sweet
$

13.45
Roasted Chicken Penne
fresh Fraser Valley chicken with roasted garlic in a sun dried tomato cream sauce topped with shaved parmesan cheese
$

12.95
Spaghetti Bolognese
rich homemade tomato meat sauce with fresh Canadian beef on spaghetti noodles topped with shaved parmesan cheese
$

11.95
Schnitzel
crispy breaded German style pork schnitzel with mashed potatoes or fries and gravy
$

12.95
BBQ Side Ribs
homemade BBQ sauce coats these sticky slow braised pork side ribs. Served with crispy fries. Half Rack
$

14.95
Butter Chicken
tender chicken cooked in a rich curry gravy served with jasmine rice and naan bread
$

14.95
Chicken Masala
tender chicken in a creamy Indian curry with jasmine rice and naan bread
$

12.95
Fish and Chips
crispy breaded cod filets with french fries and tartar sauce
$

4.95
Sweet Potato Fries
served with spicy chipotle mayo
$

8.95
Duck Drumsticks
bigger, better and tastier than chicken wings, delicious braised duck legs fried crispy and served with cracked pepper, honey garlic, or homemade BBQ sauce
$

9.95
Chicken Wings
have them spicy, honey garlic or homemade BBQ sauce
$

8.95
Artichoke Dip
with homemade potato chips
$

8.95
Fried Pickles
crispy breaded pickles with herb aioli
$

7.95
Crab Stuffed Jalapeno Poppers
served with ranch dip
$

7.95
Deep Fried Perogies
topped with bacon bits, cheddar jack and scallions
$

7.95
Poutine
a classic snack here. Cheese curds melting away with the steaming hot brown gravy marinating the crispy fries!!
$

6.95
Garlic 'n' Herb Fries
$

11.95
Chicken Fingers & Fries
with sweet and sour plum sauce
$

7.95
Olympic Onion Rings
served with ranch dressing for dipping
add a side Dutchman Burger $6.50
$

15.95
Nachos
crisp corn chips, fresh tomatoes, green onion, jalapenos & black olives smothered with rivers of melted monterey jack & cheddar cheese, with sour cream and salsa
beef or grilled chicken $2.95
guacamole $3.45
$

4.95
House Made Gelato
three scoops of our homemade gelato created fresh daily
$

6.95
The Red Light Chocolate Brownie
rich, chewy chocolate brownie with house made vanilla gelato and decadent chocolate sauce
$

6.95
Creme Brulée
Grand Marnier custard with crispy caramelized sugar
$

6.95
Tarte Tatin
the classic French apple flan with house made vanilla gelato