PHONE:
604.962.9011
ADDRESS:
13 - 4154 Village Green
MAINS:
$15 - $22
The Europeans know their meats and cheeses and Basalt has taken a page right of their book with their tasty offerings. If you're in the mood for an artistically made meal, this is your next stop.
Situated right on the Village Stroll, enjoy their cozy and comfortable atmosphere with a newly renovated outdoor patio where you can snuggle up with their fire pit. To cap off your European experience, indulge in Basalt's wide selection of international wines. With an on-staff sommelier you are sure to have a divine vino experience. Don't take our word for it, Basalt has been named "Best New Business in Whistler 2015" by Pique Magazine. Tick, tock… Your European Adventure is waiting!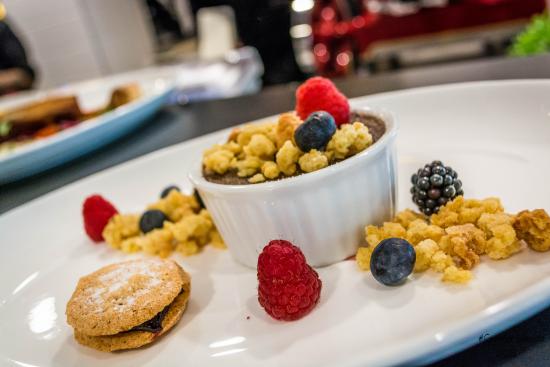 Saturday + Sunday from 3pm - 5pm. Select Red, White and Rosé Wines $9 - 5oz + Sleeves of Whistler Brewing Co. Beer $6 - 16oz
Charcuterie + Cheese
Served with bread + house-made garnishes
$

48
Basalt Local + Handcrafted
duck liver + bacon mousse, ham hock + pork cheek terrine, fall spice cured duck prosciutto, bison + herb salami, honey + black pepper labneh, le douanier, bleu bénédictin
$

40
The Tour
nostrano, tartufo salami, speck, bresaola, gewürztraminer cheese, V.S.O.C. aged gouda, aged asiago, cambozola
$

65
The Stroll
our team's choice of unique and favoured selections, large board
$

7.5 | $9.5
Warm Monte Cristo Baguette
truffle herb butter
$

11
Daily Market Soup
made here, ask our team
$

9.5
Truffle Parmesan Fries
hand-cut Kennebec potatoes, fresh herbs, garlic aïoli
$

18
Smoked Ham Hock + Pork Cheek Terrine
sour beer mustard, apple celeriac remoulade, pickled grilled king oyster mushroom, fig + cumin cracker
$

17.5
Duck Liver + Bacon Mousse
fig + cumin cracker, beet mustard, pickled cranberry, orange star anise gastrique
$

16
Basalt Flatbread with Trio of Dips
black bean + preserved lime, labneh + black sesame tahini, miso eggplant, house made flatbread
$

17
Cornmeal Crusted Calamari
smoked tomato + dill aïoli, scallions + cilantro
$

23 pp (min 2ppl)
Classic Cheese Fondue
emmental, gruyère, aged cheddar
add truffle oil $4
add veg $10
Salads
add to any salad – Rockfish
$

14
Preserved Lemon + Chili Falafel
tahini mint yoghurt, gem tomatoes, pickled zucchini, frisée, tapenade vinaigrette
$

16
Tuna Tartare Salad
kimchi dressing, soft cured egg yolk, lemongrass + raspberry kombucha crème fraîche, mirin ginger pickle, frisée
Perfect for sharing. A Selection of our team's favourites
Le Douanier (Quebec)
smooth, supple, rustic, nutty
Honey + Black Pepper Labneh (made in house)
yoghurt cheese
Cambozola (Germany)
creamy, soft ripened, mild blue
V.S.O.C. Aged Gouda (Holland)
buttery gouda
Manchego (Spain)
sharp, nutty
Switzerland
Le Gruyère Classic (Switzerland)
fine texture, full round flavour
Switzerland
Welsh Cheddar (Wales)
balanced, strong
Village Cheese Co. Gewürztraminer Cheese (British Columbia)
Cured Meats
per serving $7.50
Lomo (Spain)
dry cured pork loin
Salami Tartufo (Preferisco Italy)
truffle
Soria Chorizo (British Columbia)
mildly spiced - Two Rivers Meats
Finocchiona (Italy)
fennel seed
Nostrano Bbosa (British Columbia)
Cured Meats
per serving $9.50
Leoncini Di Parma (Italy)
30 month
Spagnia Serrano (Spain)
free range 20 month
Duck Guanciale (British Columbia)
Two Rivers Meats
Elk Goteburg Salami (British Columbia)
star anise, cumin + red chilies – Two Rivers Meats
Wagyu Bresaola (Vancouver)
dry cured beef - Two Rivers Meats
Speck (Italy)
lightly smoked, cured ham
Fall Spice Cured Duck Prosciutto (made in house)
Ham Hock + Pork Cheek Terrine (made in house)
Cerignola red and green
orange and chili
$

48
Basalt Local + Handcrafted
duck liver + bacon mousse, ham hock + pork cheek terrine, fall spice cured duck prosciutto, elk goteburg, bison + herb salami, honey + black pepper labneh, le douanier, blue bénédictin
$

40
"The Tour"
nostrano, tartufo, wagyu bresaola, speck, gewürztraminer cheese, V.S.O.C. aged gouda, cambozola, aged asiago
$

65
"The Stroll"
our team's choice of unique and favoured selections, large board
Appetizers + Small Plates
$

11
Daily Market Soup
made here, ask our team
$

7.5 /

$

9.5
Warm Monte Cristo Baguette
truffle herb butter
$

9.5
Truffle Parmesan Fries
hand cut kennebec potatoes, fresh herbs, garlic aïoli
$

17.5
Duck Liver + Bacon Mousse
pickled raisin bread crisp, orange + star anise gastrique, beet mustard, pickled cranberry
$

14
Preserved Lemon + Chili Falafel
tahini mint yoghurt, gem tomatoes, pickled zucchini, frisée, tapenade vinaigrette
$

16
Tuna Tartare Salad
kimchi dressing, soft cured egg yolk, lemongrass + raspberry kombucha crème fraîche, frisée
$

16
Basalt Flatbread + Dips
warm flatbread, miso eggplant, black bean + preserved lime, labneh + black sesame tahini
$

17
Cornmeal Crusted Calamari
smoked tomato + dill aïoli, scallions + cilantro
$

18
Smoked Ham Hock + Pork Cheek Terrine
sour beer mustard, apple celeriac remoulade, pickled grilled king oyster mushroom, fig + cumin cracker
$

18
Chorizo + Avocado Benny
2 soft poached free run eggs, english muffin, fruit, potatoes, black bean + corn salsa, hollandaise
$

17
Stewed Gem Tomato + Swiss Chard Benny
2 soft poached free run eggs, english muffin, fruit, potatoes
$

17
Weekend Quiche
chef likes to get creative on the weekend - what will today's quiche be? served with spring greens
$

16
Buttermilk Pancakes
cultured butter, strawberry rhubarb quick jam, bacon
$

19
Basalt Burger
hand pressed 63 Acres beef burger, aged beemster cheese, smoked bacon, house pickles, tomato, onion, garlic herb aioli, brioche bun, kennebec fries
$

25
Steak + Sunny Side Up
6oz beef striploin, cured yam + brussels sprout hash
$

17.5
Basalt Grilled Cheese
aged cheddar, frère jacques + gruyère, smoked tomato jam, sourdough bread, kennebec fries
$28 per person weekdays/$34 per person weekends + holidays *wine pairings by the 5oz glass / by the bottle
Daily Market Soup 11
made here, ask our team
Preserved Lemon + Chili Falafel
tahini mint yoghurt, gem tomatoes, pickled zucchini, frisée, feta, tapenade vinaigrette
Meinklang Grüner Veltliner 2016 5oz glass $15 / $70 bottle
Albacore Tuna Tartare
kimchi dressing, soft cured egg yolk, lemongrass kombucha crème fraîche, mirin ginger pickle, wonton sphere
50th Parallel Pinot Gris 2018 5oz glass $10 / $54 bottle
Brome Lake Duck Breast
pickled gooseberry + lillooet honey jus, crispy duck skin gnocchi, sage pumpernickel gremolata, crispy brussels sprouts with lemon nutritional yeast
Moraine Estate Pinot Noir 2017 5oz glass $15 / $70 bottle
Sumac Roasted Rock Fish
apple caper tomato salsa, cured yam + chickpea hash, swiss chard, butter chicken sauce
Da Silva Vineyards Fumé Blanc 2016 5oz glass $13 / $62 bottle
Miso + Tamari Glazed BBQ Eggplant
yam + gochujang purée, mirin + ginger braised leeks, tempura of forgotten vegetables
Feudi Di San Gregorio Rubrato Aglianico 2012 5oz gls $18 / $89 btl
Classic Cheese Fondue (minimum 2 ppl)
emmental, gruyère + aged cheddar, monte cristo bread
50th Parallel Pinot Gris 2017 5oz glass $10 / $54 bottle
Coconut + Lemongrass + Ginger Popsicle
salty roasted peanuts, lemon raspberry konbucha granita, smoked coconut toffee
LaStella Moscato D'Osoyoos 4oz glass $15
Vietnamese Coffee Panna Cotta
pig's ear cookie, torched orange
Taylor Fladgate Late Bottle Vintage 2012 2oz glass $14 / $92
Cheese Board
welsh cheddar, le gruyère classic, house made labneh, fig
caramelized onion jam (add $4)
Moraine Estate Cliffhanger White 2017 5oz glass $10/ $50