PHONE:
604.966.2121
ADDRESS:
10 - 4433 Sundial Place
MAINS:
$15 - $38
Chef Owen Jones knows comfort food. He has been making your faves with a little twist in Whistler for over 20 years. Located right in the heart of Whistler Village, 21 Steps offers big portions of their updated comfort classics made from scratch for only a small portion of cash. If you're a bit indecisive, bring a pal so you can indulge in their small plates to taste a bit of everything.
While indulging in fried goat cheese or baby back ribs, enjoy a stunning view of Whistler Village. If the view doesn't do it for you, their long maple bar and local photography should. This cozy yet chic venue if bound to encourage you to stay for an extra drink (or two). Go ahead, indulge, you deserve it.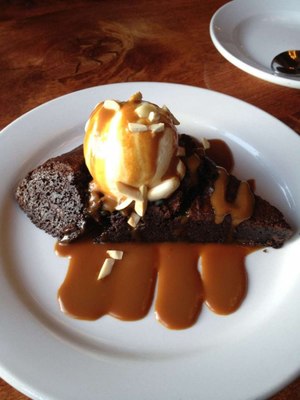 $

14.5
PUFF PASTRY CAPRESE
warm bocconcini mozzarella blend baked in pastry topped with baby heirloom tomato, arugula, basil and raspberry balsamic
$

15.5
GARLIC CHILI PRAWNS
scallions, peanuts and crispy wontons
$

15
COLD SMOKED SOY SALMON TARTARE
pickled cucumber and sesame kale greens
$

6
MIXED MARINATED OLIVES
rosemary, thyme, and fried garlic
$

14.5
STAR ANISE AND ORANGE BRAISED PORK RIBS
with Chinese mustard and sweet soy
$

15
FRIED GOAT CHEESE
with caramelized onion and rosemary infused honey
$

14.5
TINY BACON WRAPPED FILETS
with horseradish aioli
$

5.5
EDAMAME
served cold tossed with kosher salt
$

16
FRESH MUSSELS
steamed in white wine & butter or Thai red curry broth
$

13.5
BRAISED PORK BELLY
roasted yam and garlic puree and apple fennel coleslaw
$

14
SALMON CAKES
arugula and spinach greens with soy beans in a lemon dill vinaigrette with dill crème fraiche
$

12.5
BUTTERMILK FRIED CHICKEN
grainy Dijon ranch and honey
$

9
VEGGIE BLACK BEAN SOUP
southwestern spiced vegetable soup with black bean
$

11
CAESAR SALAD
parmesan, croutons with a traditional garlic dressing
$

11
BABY ICEBERG LETTUCE SALAD
blue cheese dressing and crispy bacon
$

12
KALE SALAD
kale, pink grapefruit, shaved beet and carrot with toasted pumpkin seeds in a grapefruit vinaigrette
$

14.5
THE TWENTY ONE
mesculin greens with goat cheese, spiced pecans, fresh orange with basil oil and balsamic reduction
$

6
IN HOUSE SMOKED CHICKEN BREAST
$

2.5
BASKET OF WARM FRESH BREAD
with housemade garlic butter
$

26.5
ROASTED HALF CHICKEN
roasted chicken stock, white wine and fresh lemon
$

30.5
FRESH BC ROCKFISH
Chili citrus ginger yogurt with toasted sesame
$

27.5
STUFFED PORK SCHNITZEL
ham, arugula, apple and cheese blend
$

29
BRAISED BONELESS BEEF SHORT RIB
leek, shallot and red wine demi sauce. With crispy enoki mushrooms
$

31
TIGER PRAWNS AND SEA SCALLOPS
medium spiced coconut basil sauce
$

24
STUFFED PORTOBELLO MUSHROOM
spinach,caramelized onion and goat cheese with panko bread crumbs
$

31
WILD BC SALMON FILET
grilled with ponzu butter
$

18.5
THAI VEGETABLE CURRY
mixed vegetables in a curry sauce
$

37
AUSTRALIAN LAMB CHOP
grilled with rosemary and red vermouth reduction
$

39
CERTIFIED ANGUS BEEF NEW YORK STEAK 10OZ
tarragon roasted garlic butter
$

41
RIBEYE STEAK 12OZ
chipotle garlic butter and crispy onions
$

43
BACON WRAPPED FILET MIGNON 7OZ
peppercorn sauce or chipotle butter and crispy onions
ADD PRAWNS $10
ADD MUSHROOMS $5
ADD 2OZ SMOKED CAMBOZOLA $6
Pastas
CHOICE OF PENNE OR LINGUINE (GLUTEN FREE PASTAS AVAILABLE WITH A SUPPLEMENTARY CHARGE OF $2.5)
$

21.5
SMOKED CHICKEN
house smoked chicken breast in a roasted red pepper and garlic cream sauce. Garnished with parmesan
$

20
ITALIAN SAUSAGE
housemade sausage and red wine glazed mushrooms in a rose sauce. Garnished with parmesan
$

19
BOLOGNESE
classic meat sauce with beef and pork. Garnished with parmesan
$

22
SHELLFISH
mussels, prawns and sea scallops in a marinara sauce drizzled with basil oil
$

20
KALE PESTO
house smoked kale and walnut and grand padano pesto with roasted red peppers. Garnished with parmesan
$

23
BRAISED PORK SHOULDER PAPPARDELLE
cremini mushroom and broccoli in a porcini cream sauce. Garnished with parmesan