PHONE:
604.932.5569
ADDRESS:
102B - 4359 Main Street
MAINS:
$11 - $20
Since you were a little kid, your mom has been telling you to share. So why should things be any different now? At Elements, Whistler's premier tapas restaurant, you are encouraged to order many tapas to share with your fellow diners. However, when dishes like almond crusted parsnip croquettes and pan seared scallops arrive at your table, you may want to keep the dishes to yourself. Open for all three meals and highly regarded in the Whistler area for its fine dining, you don't want to miss a chance to delight in the unique flavours at Elements.
Elements is all about keeping it local. Local ingredients, local produce and even local wine. Taste and delight in the best wines BC has to offer as they perfectly compliment every bite. Share, taste, sip and indulge in Elements.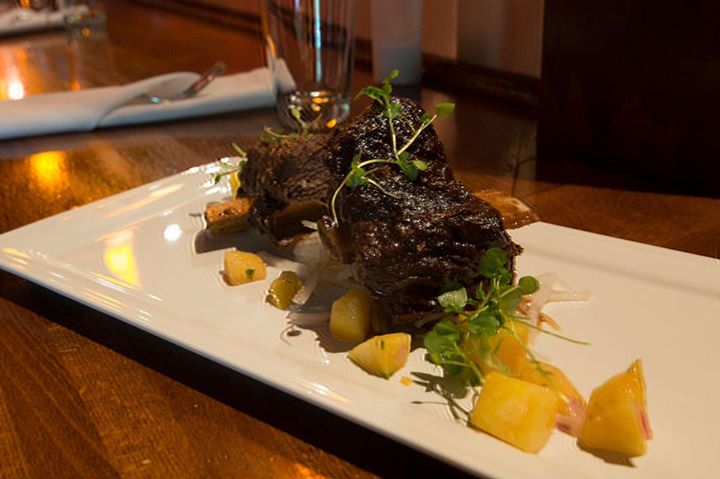 Classic Breakfast
Two free run eggs any style, elements signature potato tartlet with chive sour cream, artisan breads & your choice of:
$

11.00
Portobello Mushrooms
$

12.00
Canadian Back Bacon
$

13.00
Double Smoked Bacon
$

14.00
Smoked Duck Sausage
$

14.00
Pork Bangers
Substitute a bagel / croissant / gluten free bread $1.00
Benedicts
Two poached free run eggs, toasted English muffin, elements signature potato tartlet with chive sour cream
$

13.00
Canadian Back Bacon
Citrus hollandaise
$

14.00
Tomato & Avocado
Aged cheddar,pesto hollandaise
$

14.00
Sautéed Spinach, Goat's Cheese
Sun dried tomato hollandaise
$

15.00
Montreal Smoked Meat
Dijon hollandaise
$

15.00
English Breakfast Stack
Roasted tomato, Portobello mushroom, duck sausage, double smoked bacon, poached eggs on top with hollandaise
$

16.00
BC Smoked Salmon
Crispy capers & citrus hollandaise
$

18.00
Haida Gwaii BC Dungeness
crab meat, citrus hollandaise
$

15.00
Honey Ham & Brie Stuffed French Toast
Thick sliced french bread stuffed with honey ham & double cream brie, with real Canadian maple syrup
$

15.00
Caramelized Banana and Chocolate Stuffed French Toast
Thick sliced french bread stuffed with our caramel banana & chocolate chip butter, with real Canadian maple syrup
$

12.00
Traditional French Toast
French bread sliced & fried golden, with real Canadian maple syrup
$

8.00
Oatmeal
Served with half grapefruit and artisan bread
$

6.00
Two Tone Frites
Roasted tomato & black pepper aiolis
$

13.00
Smoked Bocconcini Caprese
Sliced vine tomatoes, pesto, balsamic reduction
$

10.00
Endive Salad
Apples, figs, walnuts, and blue cheese with apple cider dressing
$

11-$13
Lettuce Cups
Crunchy baby iceberg lettuce, julienne vegetables, seasoned rice noodles, soy roasted cashews, bean sprouts, nuoc-cham dipping sauce:
Ahi tuna sashimi & tobiko $13.00
Hoisin pork & pineapple salsa $13.00
Crispy tofu & chili honey $11.00
$

13.00
Almond Crusted Parsnip Croquette
With tomato chutney
$

14.00
Porcini Gnocchi
Wild mushrooms, truffle butter sauce, shaved parmesan
$

17.00
Steamed West Coast Mussels
Lemongrass, kaffir lime, coconut red curry
$

16.00
Confit Duck Sliders
Pancetta, tomato, lettuce, zesty orange mayo
$

16.00
Butler Steak (flat iron)
Fries, demi glaze
$

17.00
Sesame Crusted Ahi Tuna
Miso aioli, daikon and bonito flakes
$

11.00
Elements Signature
Bruschetta, Bocconcini, roma tomatoes, balsamic reduction, basil pesto on foccacia
$

9.00
Sandwich of the Day
Soup $4.00
Salad $5.00
Fries $4.00
$

5.00
Mixed & Marinated Olives
$

6.00
Bread, Olive oil & Balsamic
$

6.00
Two Tone Frites
Tomato chutney & curry aioli
$

9.00
Maple Roasted Root Vegetables
$

10.00
Panko Crusted Goat Cheese
Beet salad, beet relish, candied pecans
$

13.00
Almond Crusted Parsnip
croquettes, tomato chutney
$

17.00
Artisan Cured Meat & Cheese Plate
Assortment of terrine and cured meats, local BC cheeses, crostinis, fruit compote & pickles
$

13.00
Smoked Bocconcini Caprese
Sliced vine tomatoes, basil pesto, balsamic reduction
$

10.00
Endive Salad
Apples, figs, walnuts, and blue cheese with apple cider dressing
$

11.00
Elements Signature
Bruschetta, Bocconcini, roma tomatoes, balsamic reduction, basil pesto on foccacia
Where Mother Nature is the Chef
$

14.00
Lettuce Cups
Crunchy baby iceberg lettuce, julienne vegetables, seasoned rice noodles, soy roasted cashews, bean sprouts, Nuoc-cham dipping sauce: Ahi Tuna Sashimi & Tobiko
$

13.00
Hoisin Pork, Pineapple Salsa
$

11.00
Crispy Tofu & Chilli Honey
$

14.00
Wild BC Salmon & Ahi Tuna
Tempura roll, wasabi, tobiko, ponzu
$

18.000
Pan Seared Scallops
On pork & puy lentil puree, boar bacon crisps, arugula
$

18.00
Deconstructed Ahi Tuna Taco
habanero cornmeal crusted, polenta cake, slaw, avocado, pico de gallo, tomatillo salsa & house made corn chips
$

16.00
BC Dungeness Crab and Shiitake Mushroom Cakes
Slaw, wasabi aioli
$

17.00
Steamed West Coast Mussels
Lemongrass, kaffir lime, coconut red curry
$

17.00
Wild BC Salmon Combo Plate
Cured, maple smoked and tartar with potato chips, crostinis & crème fraiche
$

18.00
Roasted Miso Marinated Pacific Ling Cod
Spicy honey soy green beans, crispy green bean noodles
THANKS FOR JOINING US TONIGHT…Chef Dom Jean
$

14.00
Porcini Gnocchi, Wild Mushrooms
Truffle butter sauce, parmesan
$

16.00
Confit Duck Sliders
Pancetta, tomato, lettuce and zesty orange mayo
$

14.00
Heritage Angus Beef Tartar
Pickles, horseradish, quail egg yolk & potato biscuits
$

17.00
Slow Cooked Pork Belly
Bacon & rosemary bread pudding, apple butter, maple cider glaze
$

17.00
Roast Duck Breast
Maple roasted root vegetables, beet relish
$

20.00
Red Wine and Paprika Braised Stiletto
beef shank, mushrooms, potatoes, carrots & potato dumplings
$

25.00
Heritage Angus Beef Tenderloin
Sautéed kale, double baked cheese stuffed potato, topped with beef compound butter, seasoned with truffles
$

8.00
Lucia's Gelato
Today's flavour
$

10.00
Hot Sticky Toffee Pudding
Dates, spices, butterscotch sauce, poached pear & cinnamon gelato
$

9.00
Chocolate Nemesis
Sea salt caramel, goat yogurt & cocoa nibs
$

9.00
Banana Mousse Stuffed Chocolate Cup
Topped with peanut butter cookie crumble and caramel
$

9.00
Southern Style Hot Peach Cobbler
With rummed whipped cream
$

12.00
Assorted Cheeses
Crostinis, fruit compote