PHONE:
604.938.4565
ADDRESS:
4090 Whistler Way
MAINS:
$15 - $32
An intimate, delicious taste of Japan awaits you at Kaze. With over 38 years of sushi rolling experience, Chef 'Tokyo' Tom Akama, is passionate about serving the highest quality sushi and more to his loyal patrons. With unique and rare finds like Tai and Blue Fin tuna brought directly from Japan twice weekly and extraordinarily tasty Matsusaka Beef, you may need to try one of everything. Tom is passionate about making a great experience for his guests and boy does it show. You will feel like a welcomed guest and your full belly will thank you.
Don't miss the Set Dinner Menu for 4 or more which comes with apps, a packed sushi boat and a hot pot. Options galore, with the freshest sushi around make Kaze a sure fire hit.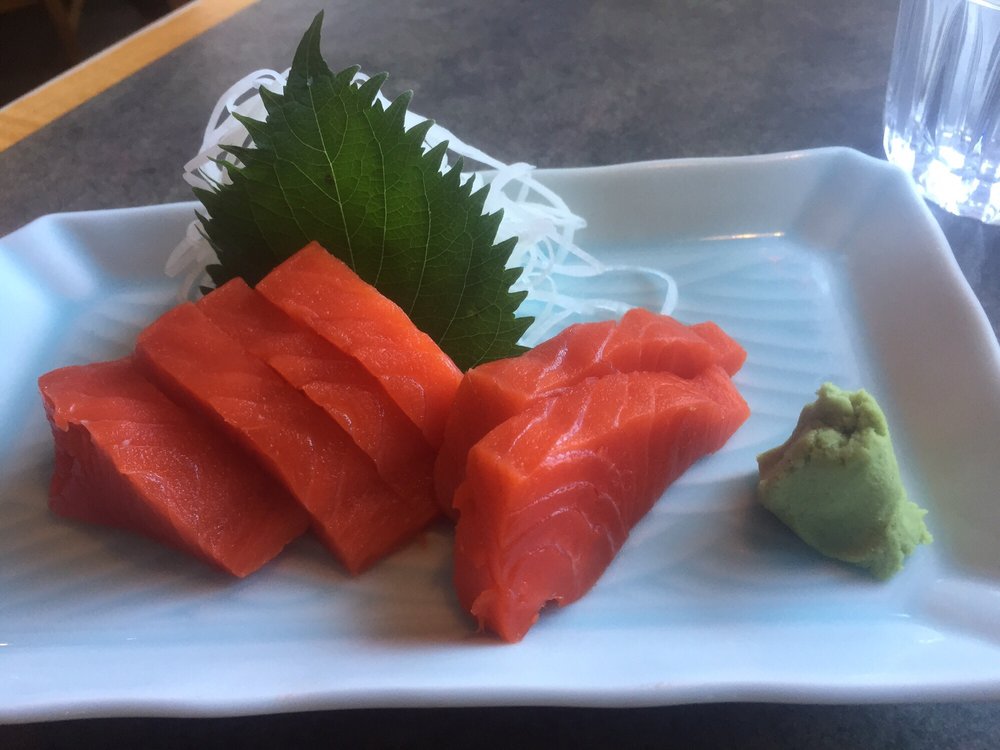 TSUMAMI
appetizers and tidbits
$

5.25
Edamame
boiled soy beans
$

5.95
Yakitori
chicken shishkabob
$

5.25
Horenso Ohitashi
boiled spinach with soy dressing
$

4.25
Horenso Gomaae
boiled spinach with sesame seed dressing
$

5.95
Gyoza
pork dumplings
$

12.95
Saikyoyaki
Tokyo Tom's famous barbecued black cod – a Must try!
$

6.95
Ikura Oroshi
salmon roe w/ grated daikon radish
$

5.95
Oyster Motoyaki
baked w/ garlic miso-nnaise
$

4.25
Agedashi Tofu
w/ various toppings with soy-based sauce
Barbecued Fish
ask your server for tonight's feature Current Saba/Salmon/Hamachi-kama (cheek)
$

6.75
Tako Sunomono
octopus in a vinegar dressing
$

6.75
Ebi Sunomono
shrimp in a vinegar dressing
$

7.95
Kani Sunomono
crab in a vinegar dressing
$

15.00
Seafood Salad
topped w/ various seafood
$

9.95
Kaiso Salad
seaweed salad
NABE
(hotpot) nabe is a hearty and nourishing meal, not quite a stew, not quite a soup, cooked at the table. complete with meats and/or seafood and vegetables, nabe is perfect for a group. a meal to share, available for 2 or more
$

30.25
The Whistler Nabe
a deluxe presentation of pork, chicken, salmon, prawns, tofu, onion, nappa cabbage, harusame (yam noodles) and mushrooms, served in a miso-based broth (per person)
$

30.25
Kamo Nabe
sliced long Island duck, tofu and assorted vegetables, served in a soy-based broth (per person)
$

30.25
Udon Ski
a variety of vegetables and seafoods, chicken, udon in a soy-based broth (per person)
$

31.25
Sukiyaki
a traditional nabe, featuring prime alberta beef and assorted vegetables in a sweet soy based broth (per person)
$

32.25
Shabu Shabu
prime alberta beef and assorted vegetables, quick-cooked in broth, served with soy-citrus and sesame dipping sauces (per person)
SET DINNER MENU
For 4 or more. An unforgettable dining experience featuring a full assortment of authentic Japanese flavours and textures. Wonderful to share with good friends and good conversation.Meal includes each of the following items:
Yakitori Chicken (shishkabob)
$

38.95 / person
MAIN:
Choose one of our Nabe (HOTPOT) Selections for all to share
NIGIRI SUSHI
a piece of fish or seafood on top of seasoned sishi rice (per piece)
$

2.95
Albacore maguro
white tuna
$

3.95
Big Eye Maguro
red tuna
$

3.95
Amaebi
sweet shrimp
$

3.95
Unagi
barbecued eel
$

3.75
Tobiko
flying fish roe
Special Fish available in season only (please ask your server)
$

25.95
Assorted Sushi
6 nigiri & 6 maki
$

29.95
Deluxe Assorted Sushi
8 nigiri & 6 maki
MAKI SUSHI
rolls of fish or seafood wrapped with rice and seaweed, sliced into 5 to 8 pieces.
$

9.25
Real crab California
real crab, tobiko sauce and avocado
$

5.95
California
imitation crab, tobiko sauce and avocado
$

10.25
Dynamite mild / spicy
giant prawn tempura
$

3.25
BC
grilled salmon skin
$

11.25 Small /

$

8.95
Futo maki
egg & assorted vegetables
$

4.25
Negitoro
tuna belly w/ chopped green onion
$

12.95
Rainbow Roll
scallops with daikon sprout wrapped with salmon and avocado
$

15.95
Hokkai Roll
scallop, tuna, salmon, shrimp, shiso leafs
$

13.95
Spider Roll
soft shell crab
$

7.95
Westin Roll
cream cheese, salmon and avocado
$

7.95
Grasshopper Roll
tempura asparagus wrapped with avocado
$

3.75
Umeshiso
minty japanese herb w/ pickled plum paste
$

18.00
Kamikaze Roll
giant prawn tempura wrapped with avocado, salmon and barbecued eel topped with special sauce and tobiko
$

11.95
Tropical Roll
tempura shrimp, wrapped with salmon, avocado and mango
$

9.95
Caterpillar Roll
unagi & cucumber wrapped with avocado
SASHIMI
5 slices of pure, flavourful raw fish
$

14.95 albacore /

$

21.95 big eye
Tuna
$
14.95 albacore /
$
21.95 big eye
$

14.95
½ And ½ Tuna & Sake
$

22.95
Assorted Sashimi
9 pieces
$

31.95
Seasonal Daily Sashimi
TEMAKI SUSHI
(Cone Style) also available