PHONE:
604.932.5999
ADDRESS:
4280 Mountain Square
Cheesy, sour cream-y, crunchy nachos and beer? Sounds good to me! Longhorn is known for their lively crowds and delicious pub food. By night the party is nonstop with djs and dancing. Known for their après ski parties, the Longhorn has great nachos, wings, poutine and more. Looking for a casual meal? Check out their juicy burgers, yummy wraps or finger-licking ribs. Dine inside, or head out on their brand new patio to soak up the sun and enjoy the breathtaking views.
Each night is a different theme at Longhorn, from Tequila Tuesday to Mimosa Mondays there is always a party at Longhorn. Grab your skis and your appetite, its time to party at Longhorn!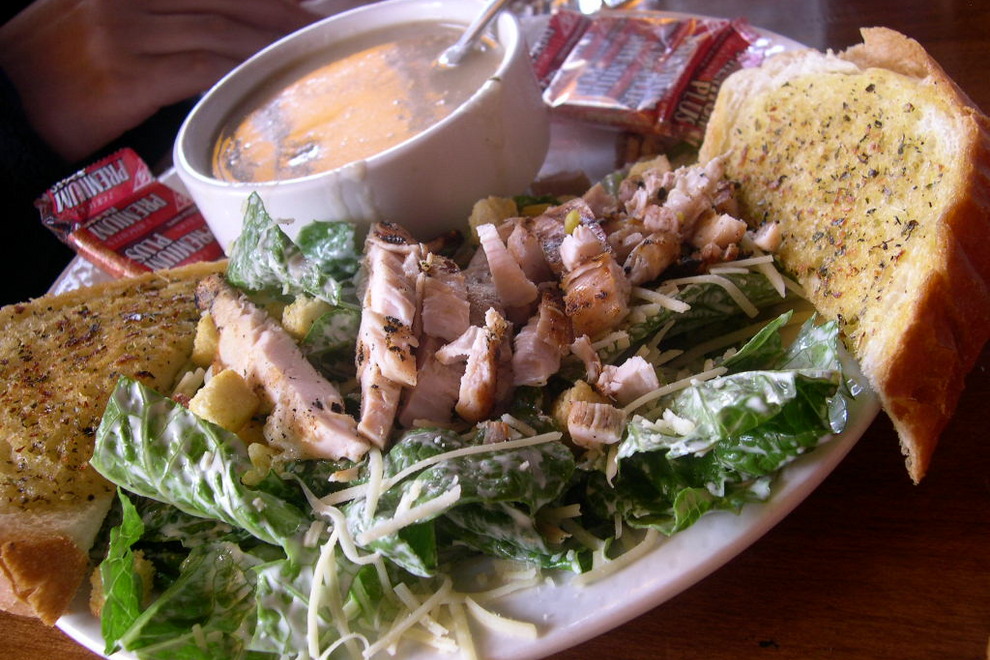 $

29
Longhorn's Legendary Nachos
Monterey Jack, Cheddar, spicy jalapenos, peppers, onions, tomatoes and spring onions. Served with house made salsa and sour cream.
Add guacamole, chicken, beef, pulled pork or bacon $5
$

15
Buffalo Wings
Tossed in hot sauce with carrot sticks, celery sticks and blue cheese.
$

11
Poutine
French fries and cheese curds smothered in chicken gravy
Add pulled pork and spicy peppers $5
$

13
Quesadilla
Flour tortilla stuffed with Monterey Jack and Cheddar, diced tomatoes and spring onions, served with house made salsa and sour cream
Add chicken or pulled pork $5
WRAPS + SANDWICHES
Served with fries or substitute house salad or soup for $2.50
$

16
Buffalo Strip Wrap
Chicken strips tossed in Frank's hot sauce, crisp greens, tomato, cucumber and nacho cheese in a flour tortilla
$

18
Clubhouse Sandwich
A triple decker bacon, roast chicken, tomatoes and crisp greens on toasted multigrain.
$

16
Chicken Caesar Wrap
Grilled chicken, crisp Caesar salad and Parmesan cheese wrapped in a flour tortilla
$

18
Reuben Sandwich
Stacked Montreal smoked meat, Swiss cheese, sauerkraut and Dijon on grilled rye
$

16
BBQ Pulled Pork Sandwich
With spicy peppers, house slaw and chipotle mayo on ciabatta
$

16
Jerk Chicken Wrap
Grilled chicken, guacamole, banana peppers, crisp greens with chipotle mayo in a flour tortilla with spicy jerk sauce
SOUPS + SALADS
Additional dressing is available for $0.50
$

8
Soup of the Day
Freshly made daily - served with garlic toast
$

13
Soup & Salad
A bowl of soup served with Caesar or crisp greens and garlic toast
$

16
Longhorn Salad
Crisp greens, grape tomatoes, cucumber, carrot, feta cheese, chickpeas and pumpkin seeds. Served with garlic toast and your choice of dressing
Add grilled or Cajun chicken $5
$

14
Caesar Salad
Romaine lettuce, Parmesan cheese and croutons tossed in creamy Caesar dressing
Add grilled or Cajun chicken $5
$

14
Seasoned Quinoa Salad
Tuscan greens cucumber, carrots, dried cranberries and roasted pumpkin seeds tossed in a thyme dijon vinaigrette
$

18
Cobb Salad
Chicken, bacon, egg, avocado on a bed of fresh Tuscan greens with cucumber and grape tomatoes and your choice of dressing
SIGNATURE DISHES
Served with fries and a choice of caesar, house salad or soup
$

25
Barbecued Roast Chicken
Marinated with our BBQ rub, slow roasted and finished with Pale Ale infused BBQ sauce, served with garlic toast.
$

28
Full Rack of BBQ Sweet Chipotle Ribs
Fire grilled and falling off the bone. Pork ribs finished with Pale Ale infused BBQ sauce
$

8
Dipping Veggies
Carrots, cucumber, celery and grape tomatoes served with choice of dip
$

9
Chips & Dip
Housemade salsa & guacamole served with tortilla chips
$

10
5-Layer Dip & Chips
Pinto bean dip, guacamole, sour cream, house made salsa, Monterey Jack and Cheddar cheese, garnished with tomato and spring onions
$

14
Chicken Strips
Served with fries, carrots and celery sticks with sweet plum sauce
$

9.75
Gibbons Apres Lager
$

9.75
Deep Cove Method Pale Ale
$

9.75
Deep Cove Honey Lager
$

9.75
Fuggles & Warlock Cream Ale
$

9.75
Stanley Park Layer Up Wheat Ale
$

29
Legendary Bulldog
An inverted Corona in our Classic Lime Margarita
$

29
Strawberry Bulldog
Our strawberry version with an inverted Smirnoff Ice
$

30
Mountain Mimosa
1/2 bottle of Prosecco and a carafe of orange juice
CHOOSE YOUR PATTY (6OZ)
Beef and veggie burgers served with mustard
$

17
The Classic
Tomato, onion, greens, mayo & a pickle wedge
Add cheese $1
Add bacon, cheese $2
$

20
Longhorn Burger
Loaded with cheese, bacon and mushrooms
$

19
Mushroom Swiss
Topped with Swiss cheese & seasoned mushrooms
$

19
Bleu Bacon Burger
Topped with bacon, bleu cheese & sauce
$

18
California Burger
Topped with guacamole, house made salsa, Monterey Jack cheese & jalapenos