PHONE:
604.935.3400
ADDRESS:
4591 Blackcomb Way
MAINS:
$29 - $69
Dining should be a memorable experience. Sidecut could not agree more with this sentiment. They believe each diner deserves a special experience when they walk through their doors, and it would be difficult not to. With their locally inspired cuisine created by Eren Guryel, who uses only regional meats and locally sourced produce, your meal is sure to be unforgettable. Their steaks are not to be missed.
To accompany your amazing meal, enjoy a beautiful view of the Whistler and Blackcomb mountains and their lovely open fireplace. Nestled inside the Four Seasons Whistler, Sidecut will not disappoint even your highest expectations. If you are looking for remarkable, this is your next stop.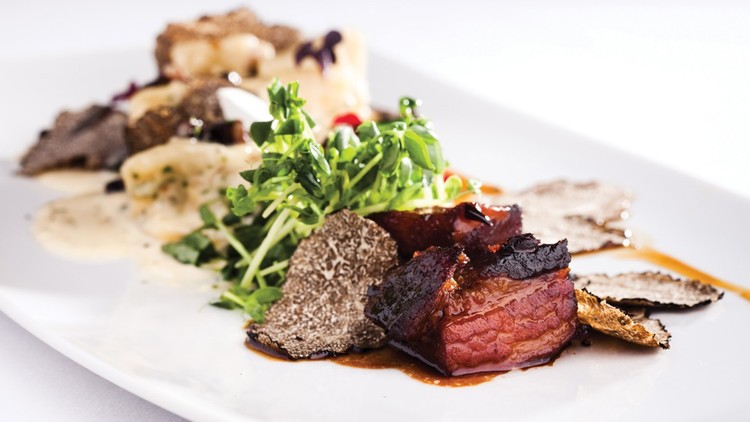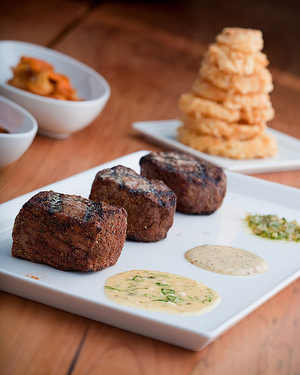 $

20
BEETROOT AND PHYLLO WRAPPED CHÈVRE
Arugula, pine nut, mustard vinaigrette
$

18
MIXED FIELD GREENS
Tomato, cucumber, carrot, sherry vinaigrette
$

19
BABY ICEBERG
Bacon, tomato, blue cheese, shallot, ranch
$

20
KALE & ROMAINE CAESAR
Anchovy, garlic crouton, egg, parmesan
$

25
WILD SALMON SASHIMI 4OZ.
Maple soy glaze, ginger, garlic, wasabi
$

25
SCALLOP CARPACCIO GF
Celery, grapefruit, olive, basil
$

28
HAND-CUT BLACK ANGUS TARTARE
Traditionally prepared, quail egg, potato crisps
$

24
PACIFIC SHUCKED OYSTERS 6PC. GF
Daily selection, -8 vinegar, cocktail sauce
$

25
HEIRLOOM PUMPKIN SOUP GF
Black truffle, chantilly, spiced pumpkin seed
$

24
STEAMED PACIFIC MUSSELS
Whistler brewery beer, garlic, melted leeks
$

34
FOIE GRAS TORCHON WRAPPED IN TRUFFLE
Chicory, pecan, truffle brioche, honey vinaigrette
$

23
GRILLED OCTOPUS TENTACLE GF
Polenta, sautéed greens, preserved lemon
$

32
BEETROOT "WELLINGTON"
Whipped potato, vegetable jus
$

29
AVOCADO DUKKAH & GRILLED HALLOUMI GF
Hummus, crisp chickpea, citrus yogurt, tomato
$

65
ALASKAN KING CRAB 10OZ. GF
Sauce vierge, drawn butter
$

51
MISO BLACK COD 6OZ. GF
Chili-garlic broccolini, ginger shoot
$

41
WILD SALMON 6OZ. GF
Beet & horseradish salmis
$

68
MIXED SEAFOOD GF
Salmon, scallop, prawn, king crab, sablefish
$

54
GRASS FED LAMB CHOPS 10OZ. GF
Sungold farms, innisfail, alberta - 1,024 km
$

66
BROME LAKE DUCK GF 66
Confit leg, roasted breast, seared liver
$

39
WAGYU BLACK LABEL FLAT IRON 6OZ. GF 39
Snake river farms, idaho - 1,138 km
$

55 | $65
BEEF TENDERLOIN 6OZ./8OZ. GF
Angus reserve, highriver, alberta - 980 km
$

54
GRASS FED NEW YORK STRIPLOIN 10OZ. GF
Organic, cache creek b.c. - 216 km
$

65
BEEF RIBEYE 12OZ. GF
Angus reserve, highriver, alberta - 980 km
$

69
BONE-IN STRIPLOIN 20OZ. GF
U.S.D.A prime, nebraska - 2,280 km
$

89 | $168
JAPANESE A5 WAGYU SIRLOIN 4OZ./8OZ. GF
Kagoshima prefecture - 8,412 km
$

128
"THE BRICK" BONE-IN STRIPLOIN 40OZ. GF
U.S.D.A prime, nebraska - 2,280 km
$

99
CEDAR PLANK SALMON 24OZ. GF
Wild caught, pacific ocean
$

183
"THE LONG BONE" DRY AGED BEEF RIBEYE 52OZ. GF
Double r ranch, washington - 568 km
$

81
CAGE FREE ORGANIC CHICKEN 32OZ. GF
Maple hills farms, british Columbia - 186 km
$

11
YUKON POTATO PURÉE, CONFIT GARLIC GF
$

11
ROASTED LOCAL POTATO, ROSEMARY & GARLIC GF
$

12
RIGATONI AND BOURBON BACON, 'MAC & CHEESE'
$

13
SAUTÉED MUSHROOM, SHERRY GF
$

11
BRUSSELS SPROUT, AGED BALSAMIC & PARMESAN GF
$

12
SAUTÉED BROCCOLINI, CHILI-GARLIC BUTTER GF
$

11
STEAMED ASPARAGUS, BEARNAISE SAUCE GF
$

12
BRAISED LEAFY GREENS, GARLIC & PARMESAN GF
MP
BLACK WINTER TRUFFLE PER G. GF
MP
$

34
ALASKAN KING CRAB LEG 5OZ. GF
$

26
SEARED FOIE GRAS 4OZ. GF
$

15
SEARED U-10 SCALLOP 4OZ. GF
$

14
GRILLED PRAWN 3OZ. GF
$

4
FRIED CAGE FREE EGG GF
$

4
HOUSE STEAK SAUCE, FIG & TAMARIND
$

4
GREEN PEPPERCORN JUS, SORTILÈGE GF
$

4
BÉARNAISE SAUCE, TARRAGON & CHERVIL GF
$

4
MUSTARD WITH HORSERADISH, RIESLING GF
BLACK ANGUS
Black pepper, black cardamom, toasted cumin, celery salt, sel grey, mustard seed, onion & garlic chili powder, cayenne pepper
BLUEBERRY HILL
Huckleberry, fresh ground cumin, ground nigella, smoked thyme, granulated onion, cracked black pepper, brown sugar
SERGEANT PEPPER
Pink peppercorns, white peppercorns, black peppercorns, szechuan peppercorns, coriander seeds, sea salt