PHONE:
604.938.9898
ADDRESS:
8080 Nicklaus North Boulevard
MAINS:
$17 - $34
Tucked into the Nicklaus Golf course, you will find Table Nineteen with delicious fare, incredible views and great prices. To truly stretch your dollar, head to their Happy Hour from 3-5pm Sunday to Thursdays to enjoy meal and drink discounts. Here you will find everything from handmade pizza to juicy burgers and even their melty delicious fondue. Meals are served with only the freshest ingredients available locally and recipes with creativity and pizazz. Sit back, relax and soak in the view of the lake, golfers teeing off and even planes landing. Second only to the view on the patio is the presentation of the meals. Each dish is artfully prepared to excite and delight.
Match your tasty meal with their extensive list of cocktails, wines and beers. Everything from local drafts, summer jugs of sangria and International wines, trust us, you will never tire of choices. Enjoy one of Whistlers best patios and enjoy fresh flavours. It's tee time.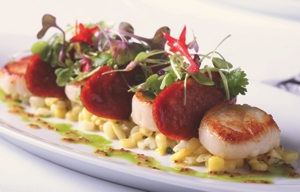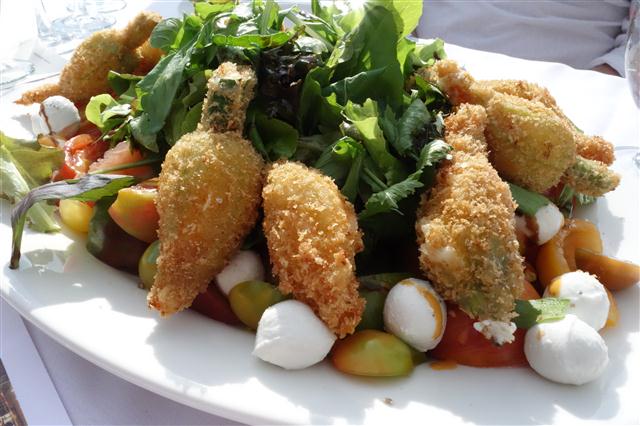 served until 10:45am . all eggs served at Table Nineteen are cage free
$

14
JACK'S SIGNATURE
two eggs any style, bacon or pork sausages, breakfast potatoes, toasted Italian sourdough or whole wheat
$

14
THE BEAR SANDWICH
two fried eggs, lettuce, bacon, tomato, mayo, aged cheddar, toasted whole wheat, breakfast potatoes
$

14
MASTERS WRAP
scrambled eggs, bacon, pico de gallo, jack cheese, spinach, breakfast potatoes, fire roasted salsa
$

15
THREE EGG OMELET
choice of two: ham, mushrooms, onions, spinach, bell peppers, tomatoes, swiss, cheddar served with breakfast potatoes, toasted Italian sourdough or whole wheat toast
$

15
AVOCADO TOAST
olive oil toasted country bread, crushed avocado, beefsteak tomato, red onion, feta cheese
$

15
VEGAN RISE & SHINE
baby kale, swiss chard, beyond meat sausage, rice quinoa, bell peppers, tomato, potato medley, smoky paprika
$

4
Juice
orange, apple, cranberry, grapefruit & pineapple
$

14
CREAMY CLAM CHOWDER
corn, bacon, potato, chipotle peppers, topped with house smoked salmon
$

19
ALBACORE TUNA TARTARE
sesame ginger vinaigreƩe, avocado, red onion, furikake yucca chips, tobiko
$

14
BLISTERED SHISHITO PEPPERS
toasted seaweed, sesame ginger vinaigrette
$

17
CHINA TOWN STYLE CHAR SUI PORK RIBS
sweet + sour pineapple
$

24
PATIO MEZZE
house smoked country ham, olives, artisanal cheeses, lemon garlic humus, naan
$

22
DENMAN ISLAND CLAMS
purple shelled BC clams, creamy garlic pesto, crusty bread
$

16
FRASER VALLEY WINGS
1lb crispy salt + pepper or Table 19 all dressed, with blue cheese or green goddess
$

24
THE NACHOS
layers of corn torƟllas, jack cheese, black olives, jalapenos, sour cream, pico, fire roasted salsa
add crispy chicken | guacamole | extra cheese $4
$

16
TABLE19 KALE CAESAR
country crouton, bacon, romaine, capers, tomato, house roasted garlic lemon dressing
$

17
ICEBERG WEDGE
radish, blue cheese, olives, tomato, cucumber, red onion, green goddess dressing
$

17
VEGAN POWER SALAD
baby kale, our tofu crumble, red cabbage, beet, pumpkin seed, fried chickpeas, golden sultanas, roasted yam, tahini cider dressing
add $4 prawns | crispy chicken | steelhead $6
$

24
SALAD NICOISE
seared local tuna, green beans, potatoes, pickled beets, olives, free run egg, caper berries, red pepper, cherry tomato
PIZZA
house made thin crust
$

20
WHITE
mushroom, garlic, feta, country ham, homemade ricoƩa, rosemary cream
$

18
MEDITERRANEAN
san marzano tomato, zucchini, bocconcini, balsamic onions, basil
$

20
ITALIAN
prosciutto, arugula, green olive, tomato, salami
SANDWICHES
served with fries or baby greens. add parmesan fries, soup or caesar salad +$2, sub beyond meat veggie patty
$

19
CRISPY CHICKEN CLUB
melted swiss, bacon, leƩuce, tomato, crushed avocado, honey mustard
$

19
7 DAY SCRATCH PASTRAMI
sauerkraut, melted swiss cheese, honey mustard
$

19
BACON CHEESE DELUXE BURGER
bacon, bacon onion jam, melted aged white cheddar, lettuce, onion, tomato
$

19
JALAPENO MUSHROOM BURGER
button mushrooms, fresh jalapenos, blue cheese, habanero mayo
$

17
LAKESIDE BURGER
lettuce, tomato, onion
add bacon, jalapenos, bacon onion jam, blue cheese, swiss, aged white cheddar, mushrooms $2 each
$

17
HOUSE SMOKED HAM & BRIE
alexis de portneuf brie, arugula, tomato, pear mustard
$

15
BEAR SANDWICH
two fried eggs, bacon, mayo, lettuce, tomato, whole grain toast till 2pm
$

21
FISH & CHIPS
crispy steamworks pale ale battered cod, lemon tartar sauce
$

19
TUNA TACOS A LA PLANCHA
marinated local white tuna, asian slaw, feta, lime, avocado, pickled ginger crema
$

17
SHANGHAI STYLE EGG NOODLE BOWL
tofu wok vegetables, house spicy sauce
add prawns $6 | korean short rib $8
$

21
SUMMER ORECCHIETTE PASTA
rainbow chard, corn, baby kale, pesto, light smoked paprika cream sauce
add prawns | steelhead $6
SPICY EGGPLANT CAULIFLOWER CURRY
coconut milk, chickpeas, rice + quinoa with mango chutney, lentil poppadum
vegan $19 | tandoori chicken $24
$

28
10 oz BLACK ANGUS STRIP STEAK
blue cheese chive butter, fries, petite greens
$

14
CREAMY CLAM CHOWDER
corn, bacon, potato, chipotle peppers, topped with house smoked salmon
$

19
ALBACORE TUNA TARTARE
sesame ginger vinaigreƩe, avocado, red onion, furikake yucca chips, tobiko
$

14
BLISTERED SHISHITO PEPPERS
toasted seaweed, sesame ginger vinaigrette
$

17
CHINA TOWN STYLE CHAR SUI PORK RIBS
sweet + sour pineapple
$

24
PATIO MEZZE
house smoked country ham, olives, artisanal cheeses, lemon garlic humus, naan
$

22
DENMAN ISLAND CLAMS
purple shelled BC clams, creamy garlic pesto, crusty bread
$

16
FRASER VALLEY WINGS
1lb crispy salt + pepper or Table 19 all dressed, with blue cheese or green goddess
$

24
THE NACHOS
layers of corn torƟllas, jack cheese, black olives, jalapenos, sour cream, pico, fire roasted salsa
add crispy chicken | guacamole | extra cheese $4
$

16
TABLE19 KALE CAESAR
country crouton, bacon, romaine, capers, tomato, house roasted garlic lemon dressing
$

17
ICEBERG WEDGE
radish, blue cheese, olives, tomato, cucumber, red onion, green goddess dressing
$

17
VEGAN POWER SALAD
baby kale, our tofu crumble, red cabbage, beet, pumpkin seed, fried chickpeas, golden sultanas, roasted yam, tahini cider dressing
add $4 prawns | crispy chicken | steelhead $6
$

24
SALAD NICOISE
seared local tuna, green beans, potatoes, pickled beets, olives, free run egg, caper berries, red pepper, cherry tomato
PIZZA
house made thin crust
$

20
WHITE
mushroom, garlic, feta, country ham, homemade ricoƩa, rosemary cream
$

18
MEDITERRANEAN
san marzano tomato, zucchini, bocconcini, balsamic onions, basil
$

20
ITALIAN
prosciutto, arugula, green olive, tomato, salami
SANDWICHES
served with fries or baby greens. add parmesan fries, soup or caesar salad $2. sub beyond meat veggie patty
$

19
CRISPY CHICKEN CLUB
melted swiss, bacon, leƩuce, tomato, crushed avocado, honey mustard
$

19
BACON CHEESE DELUXE BURGER
bacon, bacon onion jam, melted aged white cheddar, lettuce, onion, tomato
$

19
JALAPENO MUSHROOM BURGER
buttoon mushrooms, fresh jalapenos, blue cheese, habanero mayo
$

21
FISH & CHIPS
crispy steamworks pale ale battered cod, lemon tartar sauce
$

21
SUMMER ORECCHIETTE PASTA
rainbow chard, corn, baby kale, pesto, light smoked paprika cream sauce
add prawns | steelhead $6
SPICY EGGPLANT CAULIFLOWER CURRY
coconut milk, chickpeas, rice + quinoa with mango chutney, lentil poppadum
$

19 | tandoori chicken $24
vegan
$
19 | tandoori chicken $24
$

26
PARADISE VALLEY FREE RANGE PORCHETTA
roasted yams, bacon, green beans, balsamic apple jus
$

25
ROSEMARY ROASTED FRASER VALLEY CHICKEN
roasted heirloom carrots, beans, potato puree, black olive pan jus
$

30
CHAR GRILLED BLACK ANGUS STRIP STEAK
roasted heirloom carrots, pearl onions, potato puree, jus
FRESH FISH COOKED SIMPLY A LA PLANCHA
organic rainbow chard, roasted fennel, summer corn, new potatoes, lemon chive butter
$

27
Vancouver Island Steelhead
$

8
GRILLED CHEESE
with fries, greens or caesar salad
$

9
CHICKEN FINGERS
with fries, greens or caesar salad
$

8
MACARONI & CHEESE
creamy cheddar cheese sauce
$

9
BURGER
with fries, greens or caesar salad
FISH & CHIPS 10
SALMON & SUMMER VEGGIES 12