PHONE:
604.938.8000
ADDRESS:
4599 Chateau Boulevard
MAINS:
$22 - $57
Special occasions call for special meals. If you are looking for something special, The Grill Room is it. With gorgeous stone fireplaces and impeccable decoration, the ambiance in the Grill Room alone is reason to go. You will feel welcomed instantly and as if you are the only guest there. Attentive service with a smile and thoughtful recommendations will ensure the very best meal possible. Using only AAA Prime beef, Ocean Wise seafood and organic produce grown locally, you can know each bite you savour is not only delicious but of the utmost quality.
Steaks cooked to perfection, freshly caught fish, and appetizers to make your mouth water, this high end dining experience leaves nothing to be desired. Celebrate your special occasion or no occasion at all with The Grill Room.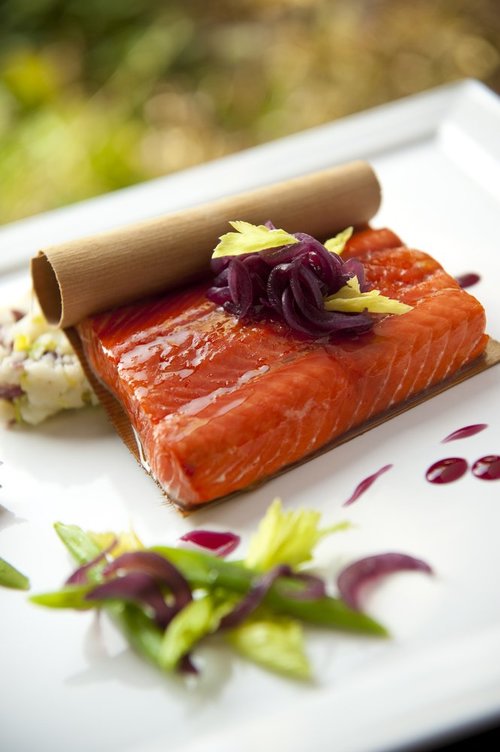 $

19
Tomato Gin Soup
BC mushrooms, double smoked bacon or confit duck, flambéed tableside with Schramm Gin
$

22
Smoked Gindara Sablefish
baby garden vegetables, watercress, birch syrup vinaigrette, smoldering cedar paper
$

24
Beef Tartare
prepared tableside with traditional garnishes, baguette crostini
$

28
Pork Belly and Diver Scallop
spring pea puree, pea shoot salad, grilled oyster mushroom, truffle frost
$

19
Beets and Burrata
pickled, roasted and confit beets, beet seedlings, candied pine nuts, tapioca crisps, fresh herb and beet vinaigrette
$

28
BC Shrimp 'Cocktail'
gem tomato and green onion salad, prawn vinaigrette, horseradish crema, watercress, prawn granité
$

30
Dungeness Crab Cake
avocado puree, fennel and horseradish slaw, tomato and ginger jam
$

16
Carrot "Marrow"
rooftop honey roasted carrot, stuffed with cashew and ginger butter, topped with red wine braised jackfruit, puffed rice crisps
$

22
Half Dozen Oysters
Chef's market selection with Caesar mignonette, fresh horseradish
$

17
Signature Caesar
romaine hearts, creamy garlic dressing, pancetta, crispy anchovy, Parmesan, cured egg yolk
$

35
Seared Foie Gras
brioche, Riesling poached rhubarb, candied ginger, hazelnut butter
$

38
Jamón Iberico de Bellota
marcona almonds, marinated olives, salsa de tomate
$

99 (For 2) | $195 (For 4)
Chilled Seafood Platter
Atlantic lobster, prawns, oysters, mussels & clams, cracked crab, cocktail sauce, marie rose, mignonette
$
99 (For 2) | $195 (For 4)
$

46 (6oz) | $57 (8oz)
Tenderloin
$

60 (20oz)
Bone-In Rib Steak
$

70
Bone-In New York Striploin 18oz
MP
Pemberton Meadows Dry Aged Rib Eye
MP
$

165
Tomahawk Chop Alberta AAA 42oz
MP
Brant Lake Wagyu Beef Striploin
8oz california cut
MP
$

65 (10oz)
Bison Striploin
$

57
Half Rack Te Mana Lamb NZ
$

85 per person
Steak Tasting
a selection of our premium cuts (minimum two persons)
with 2 sides and 2 sauces
$

64
Surf & Turf
6 oz tenderloin, butter poached half Atlantic lobster tail, asparagus and sauce béarnaise
$

66
Beef Tenderloin Neptune
6oz beef tenderloin topped with Dungeness crab and sauce Choron
$

60
Gaspor Farms Porcelet Duo
milk fed piglet sous vide and roast loin
$

35
Yarrow Meadows Duck Duo
pan roasted duck breast and confit duck leg
$

70
Rack of Cerf de Boileau
Quebec red deer
$

26
Market Risotto
seasonal creation from locally inspired ingredients
$

38
Albacore Tuna
daikon radish slaw, soy ginger vinaigrette, rice crisps
$

55
Wild BC Halibut Steak
watercress and carrot salad
$

39
BC Cedar Plank Salmon
rooftop honey glaze, pickled shallot, bitter green salad
$

36
Rainbow Trout
wrapped in prosciutto and stuffed with dill, fermented tomato and lemon cous cous
MP
Chef's Catch
locally sourced, Oceanwise fish feature, daily inspired accompaniments
MP
$

12
Green Beans
tossed with jamon iberico, butter and summer savoury
$

12
Young Carrots
carrot top and sunflower seed pesto
$

12
Garlic-Creamed Spinach and Kale
$

12
Baby Turnips
lemon, fine herbs, butter
$

18
Grilled Asparagus
sauce béarnaise
$

15
Tomato Mac N' Cheese
bocconcini cheese, fresh basil, balsamic reduction
$

12
Hand Cut Fries
truffle and Parmesan
$

45
Butter Poached Atlantic Lobster Tail
$

32 (3)
Pan-Seared Sea Scallops
$

24 (3)
Sautéed Jumbo Prawns
$

20
Lobster Mac N' Cheese
bacon and peas
$

12
Keylime Pie
graham cracker breton, yuzu-ginger gel, basil air sponge
$

12
Double Bear Chocolate
black bear chocolate creméux, brown bear whipped ganache, caramel hazelnuts
$

12
Raspberry Crème Brûlée
orange scented shortbread, red berry macaron
$

12
Just Peachy
Okanagan peach, peach compote, raspberry air sponge
$

14
Double Chocolate and Salted Caramel Sundae
brownie bites, cocoa tuile, dark chocolate and toffee sauce
$

24
Chocolate Fondue for Two
housemade caramelini, banana bread, strawberries, bananas and meringues
$

24
Artisan Cheese Board
market selection from Golden Ears cheesecrafters
$

15
Blueberry Tea
Disaronno Amaretto, Grand Marnier, Orange Pekoe, Cinnamon
$

15
Milk And Honey
Absolut Vanilla, Frangelico, Honey Syrup, Almond Milk
$

14
Avalanche Coffee
Creme de Cacao, Baileys, Caramel, Coffee
$

15
Chocolate Raspberry Peppermint Kiss
Chambord Raspberry, Peppermint Schnapps, Hot Chocolate
$

13
Butter is Better
Oakheart Spiced Rum, Butter Ripple Schanpps, Lemon, Honey, Caramel, Cinnamon, Butter
$

20 / gls
Quails Gate "Optima"
Late Harvest, Okanagan
$

16 / gls
Quady "Elysium"
Black Muscat, California
$

16 / gls
Quady "Essencia"
Orange Muscat, California
$

18 / gls
MASI
Recioto, Italy
Ports & Fortified Wines
Gls/Btl
$

11 /

$

110
Fronseca Terra Prima Organic
Port, Portugal
$

15 /

$

98
Burrowing Owl,
Coruja, Port, Okanagan (375 ml)
$

18 /

$

180
Taylor Fladgate 20 year old,
Tawny Port
$

25 /

$

250
Penfold's Grandfather
Australia
Liqueur & Digestif
1oz Gls
$

14
Saint Vivant Armagnac VSOP
$

215
Remy Martin Louis XIII