PHONE:
604.932.2223
ADDRESS:
301-4293 Mountain Square
MAINS:
$32 - $61
We've always been told not to play with our food, but here at Teppan Village its different. The expert chefs here do the playing for you. Right in front of your eyes watch their Teppanyaki chefs flipping shrimp tails, making fiery towers and more. This is truly an interactive dinner experience, dinner and a show! Perfect for the whole family or to impress a date, Teppan offers a comfortable dining experience in a chic atmosphere. Choose from sushi, entrees, small plates and signature dishes.
Make sure to match your meal with one of their 4 Japanese beers options or tasty cocktail concoctions like the Strawberry Sake Margarita or the Okinawa Colada. If you're looking for something tasty and fun, Teppan Village is your best bet!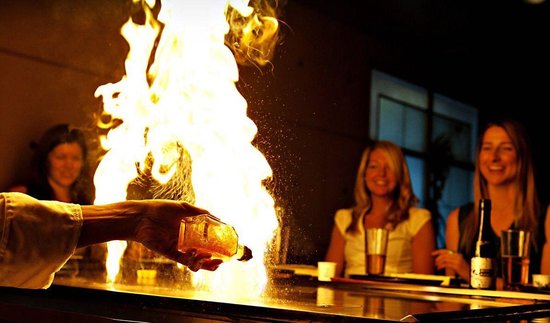 Sushi Rolls
Add spicy to any roll $0.50
$

8.75
California
Rock crab + avocado
$

5.75
Veggie
Cucumber + avocado + beet + lettuce + carrot + kaiware
$

7.50
Salmon & Avocado
Wild pacific salmon + avocado
$

7.50
Tempura Yam + Avocado
Lightly crisp yam + avocado + sesame seed
$

7.50
Salmon
Wild pacific salmon + cucumber
$

4.75
Kappa Maki
Cucumber + toasted sesame seed
$

7.50
Scallop
Jumbo scallop + cucumber
$

8.00
Tuna
BC albacore tuna + cucumber
$

7.50
Teppan
Beef tataki + carrot + beet + garlic + kaiware
$

7.50
Prawn Tempura
Crispy prawn tempura + avocado + kaiware
$

10.25
Yam Tempura
5 Yam tempura pieces
$

12.00
Assorted Tempura
2 tiger prawns + zucchini + green kale + yam
$

13.00
Prawn Tempura
5 tiger prawns
$

14.00
Beef Tataki
Thinly seared blue rare tenderloin + our house made ponzu
$

14.50
Tuna Tataki
Seared rare bc albacore tuna + our house made sauce
$

3.75
Miso Soup
Traditional japanese soup + green onion + tofu
$

5.25
Garden Salad
Crisp greens + our house made sesame dressing
$

4.50
Fried Rice
Garlic + butter + egg + green onion + soya sauce
$

5.75
Chilled Edamame
Served chilled + tossed with natural sea salt
Teppanyaki Entrees
Served with garden salad & miso soup & teppan vegetables + steamed rice + tiger prawn teaser + 3 signature dipping sauces
$

45.00 6 oz /

$

50.00 19 oz
Filet Mignon
Canadian AAA tenderloin
$
45.00 6 oz /
$
50.00 19 oz
$

40.00 8 oz /

$

46.00 12 oz
New York
Canadian AAA striploin
$
40.00 8 oz /
$
46.00 12 oz
$

34.00
Teriyaki Chicken
8 oz chicken breast + house made teriyaki sauce
$

25.00
Tofu Steak
With shiitake mushrooms
MP
Atlantic Lobster
1 lb atlantic live lobster
MP
$

35.00
Tiger Prawns
10 tiger prawns
$

36.00
Wild Pacific Salmon
6 oz wild pacific salmon filet
$

40.00
Jumbo Scallops
7 oz jumbo scallops
Teppanyaki Signature Dinners
Served with garden salad & miso soup & teppan vegetables & steamed rice & tiger prawn teaser & 3 signature dipping sauces
$

48.00
The Village
3 oz filet mignon, 3 tiger prawns, 2 jumbo scallops, 4 oz teriyaki chicken
$

50.00
Land Lovers
6 oz filet mignon, 4 oz teriyaki chicken, 2½ oz shiitake mushrooms
$

50.00 / MP
Seafood Trio (this is different)
6 oz wild pacific salmon fillet / + 1 lb atlantic live lobster, 3 tiger prawns, 2 jumbo scallops
MP
Steak + Lobster
6 oz Filet mignon / 8 oz new york striploin & 1 lb atlantic live lobster
MP
$

56.00 / MP
The Emperor
3 oz wild pacific salmon filet / + ½ lb atlantic live lobster / 3 oz filet mignon, 2 tiger prawns, 1 jumbo scallop, 2 oz teriyaki chicken, 1 oz shiitake mushrooms
Add Ons
Only for Teppanyaki & Signature Dinners
$

12.00
3 oz West Coast Salmon
$

11.00
4 oz Teriyaki Chicken
MP
½ lb Atlantic Live Lobster
MP
$

11.00
Shiitake Mushrooms
$

1.50
Garlic or Spicy Sauce