PHONE:
604.938.2090
ADDRESS:
4599 Chateau Boulevard
MAINS:
$ 28 - $ 79
Dip, delight, repeat. Chalet's amazing fondue is truly an experience you want to have. Cheese Fondue and Fondue Chinoise, invite you to dip to your heart's content. Their artisan charcuterie plates provide a taste of savoury meats and cheese, perfect for an appetizer or snack with an expertly matched glass of wine. Cozy up by one of their roaring fire places and delight in the scenery around you. Here you will find a truly Alpine menu with Swiss influence offering everything from delectable French onion soup to Weiner Schnitzel.
For dessert, you must try their chocolate fondue. Dip and delight with fresh fruit, meringue and freshly baked biscuit. A beautiful dining experience with great service and even better tastes. Get dipping, its fondue time!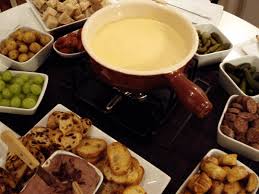 $

15.00
Traditional Onion Soup
rich beef broth, house-made croutons, melted Gruyere
$

15.00
Liver Dumpling Soup
calf's liver dumplings in rich beef broth with fine herbs
$

14.00
Chalet Winter Greens Salad
toasted pumpkin seed, roasted pear, dried cranberries and sherry vinaigrette
$

15.00
Warm Potato and Salmon Salad
hot smoked wild BC salmon, organic local potatoes, Brussels sprouts, pickled red onion, fresh dill and grainy mustard dressing
$

16.00
Mushrooms on Toast
BC mushrooms sautéed in brown butter served on garlic-herb grilled crostini
$

26.00
Artisan Charcuterie
hand cured and smoked meats served with grainy mustard and house pickles
$

34.00
Roasted Pork Knuckle
herb buttered baby potatoes, braised red cabbage and Pemberton distillery apple brandy jus
$

32.00
Wiener Schnitzel
herb buttered baby potatoes, sautéed Broccolini and cranberry chutney
$

32.00
Pan Roasted BC Salmon
herb buttered baby potatoes, sautéed Broccolini, lemon butter and fried capers
$

28.00
Grilled Artisan Bratwurst Sausage
herb buttered baby potatoes, braised red cabbage and mustard
$

28
Hungarian Goulash
herb späetzle, sour cream
RÖSTI
Swiss style sautéed shredded potato cake topped with your choice of:
$

28.00
Sauteéed Chicken Breast & Mushroom Cream
$

34.00
Émincé of Beef Stroganoff
$

34 / person (minimum 2 persons )
Cheese Fondue
molten Emmenthal, Gruyère, white wine and kirsch served with baguette
$
34 / person (minimum 2 persons )
Additional Flavorings : Winter Truffle ($10), Foraged BC Mushrooms ($8) Roasted Garlic and Fine Herbs ($3)
Fondue Chinoise
Additions: 2 Tiger prawns ($8), 2 Sea scallops ($12), 3oz. wild BC salmon ($8), 3oz. Black Apron natural BC beef ($14)
$

36 / person (minimum 2 persons)
From the Land
served with 6oz. Black Apron natural BC Beef
$
36 / person (minimum 2 persons)
$

36 / person (minimum 2 persons)
From the Sea
served with 2 prawns, 2 scallops and 4oz. wild BC salmon
$
36 / person (minimum 2 persons)
$

39 / person (minimum 2 persons)
Surf & Turf
served with 3oz. Black Apron natural BC beef, 2 prawns, 2 scallops and 3oz. Wild BC salmon
$
39 / person (minimum 2 persons)
Chalet Winter Greens Salad
toasted pumpkin seed, roasted pear, dried cranberries and sherry vinaigrette
Warm Potato and Salmon Salad
hot smoked wild BC salmon, organic local potatoes, Brussels sprouts, pickled red onion, fresh dill and grainy mustard dressing
Fondue
winter truffle 10 | BC mushrooms 8 | roast garlic and fine herbs 3
Cheese Fondue
Emmenthal, Gruyère, white wine and kirsch served with baguette
Fondue Chinoise From the Land
lightly simmered aromatic chicken broth served with 5oz. Black Apron natural BC beef
Chocolate Fondue
house made caramellini, banana bread, strawberries, banana and meringues